What does the tracking update "Depart from Transit Office of Exchange" mean? You may notice this alert from various carrier service providers.
It frequently refers to foreign exports. Is there a cause for concern regarding the delivery of your package? Read the complete article to clear up any questions you may have.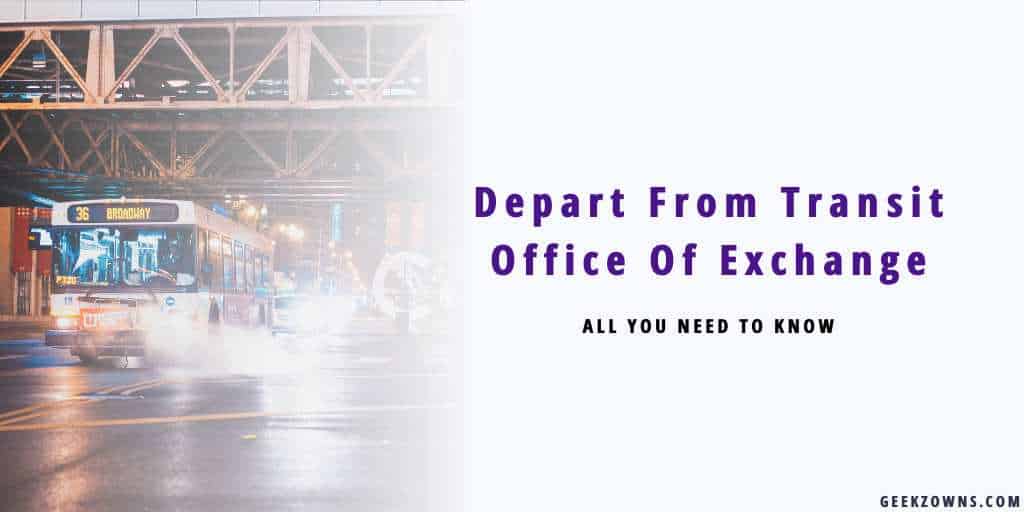 What is the Office of Exchange?
An economically focused office or facility run by or in association with postal service in a nation other than its original nation is known as an extraterritorial office of exchange.
Commercial airway bills must include products exported from the extraterritorial office of exchange in the United States; these items are not regarded as international shipping.
Depart from Transit Office of Exchange: Meaning 
The "Depart from Transit Office of Exchange" notification often indicates that your shipment has left the country of the source after getting passed through customs.
Further precisely, the "Transit Office" refers to the last Postal Facility of the nation that the parcel seems to be in. Its departure indicates that it has been given the all-clear for delivery and is now traveling to its next destination.
What does it indicate when a package is still in transit?
Most delivery services will display the status "package in transit" on their websites when a package is delivered. 
In transit can refer to a shipment that has just left the pickup facility, is halfway between two points or is already arriving at your location.
 If your package or order is "in transit," it simply implies that everything is on track for delivery and that you should get it shortly.
Tracking is paused on Depart from the Transit Office of Exchange.
The issue has likely happened if your package tracking update is held on "Depart from Transit Office of Exchange" for a few days.
Since the shipment is probably still in the nation of origin, USPS must continue relying on whichever postal service handles the cargo there.
If the package doesn't appear progressing, get in touch with the shipper to let them know. They can investigate the specifics in the home region.
For more information, you should contact customer support for the respective business if a carrier has been utilized and is in charge of the shipping in both the countries of origin and departure point. 
Although the condition "in transit" indicates that your package is progressing. 
There are circumstances when it may delay in further progression and be delayed in customs or one of the courier company's depots for additional inspections.
Your parcel may remain in transit or its direction to you as long as the tracking system is frequently updated and no unexpected status has arisen. Some circumstances have probably occurred if the box hasn't moved in a while.
The tracking statuses might occasionally hold to 24-48 hours to be refreshed, so it's worth noting that if your package's position has not changed immediately, you shouldn't be concerned just yet.
What should I do when my shipment is not departing from the exchange office?
The initial step you should do is get in touch with the person who sent your items. The shipper will frequently only discuss the cargo with the seller for various reasons. 
By getting in touch with them, figure out what happened with the package and whether you overlooked any necessary paperwork for a seamless checkpoint.
Get in touch with the shipper and learn more about your cargo and the issues encountered. By getting in touch with the carrier, you may find out whether there is anything you should do to shorten the time your deliveries take to clear customs.
Having your tracking information accessible will assist the shipper in finding your delivery, so be sure to do so. However, the processing is a time-consuming and difficult procedure in many nations if you have decided to employ a slower method of shipment.
 Be ready to wait for your shipment patiently. Shipments are frequently held up at customs when officials verify that the items' value and contents match the declarations.
Faq's
Customers are informed that the package has not been scanned recently by the notice In transit. It frequently indicates that the parcel is in transit between its place of origin and the nearest post office.
These phrases describe how commodities are moved around and transported within the supply chain. Outbound logistics includes the shipment of items and products to the final consumer, whereas inbound logistics covers the receipt of goods and raw materials from suppliers to firms.
A parcel might have become trapped in transit due to the courier vehicle being slowed down by traffic, a vehicle accident, a border crossing, a blizzard, or any other circumstances. The tracking system lets you know if the package is delayed in transit.
Conclusion
A tracking notice that states "Depart from Transit Office of Exchange" is usually negligible.
It indicates that the package has left its origin and is traveling to the country where it will be delivered.
You must consider contacting the shipper or the carrier provider concerned for transit within the nation of origin if the package status is on this update for more than two days.
I hope this post has been helpful to you and clarified all of your questions.
Originally posted 2022-10-03 10:00:00.