It's always nerve-wracking when your shipment is on hold, and you don't know what to do and what it means. Don't worry; that is why we're here to help! We've got a few options for you.
DHL courier company, also a shipping company, is one of the leading courier services in the U.S., handling thousands of packages every day.
Sometimes, their tracking system says "DHL Shipment on Hold." What does this mean, exactly? And what can you do about it?
That is the question almost every DHL user asks when they see this notification. Rest assured, there are a few possibilities as to why your shipment might be on hold, and we'll go over some of them here. 
So let's get started.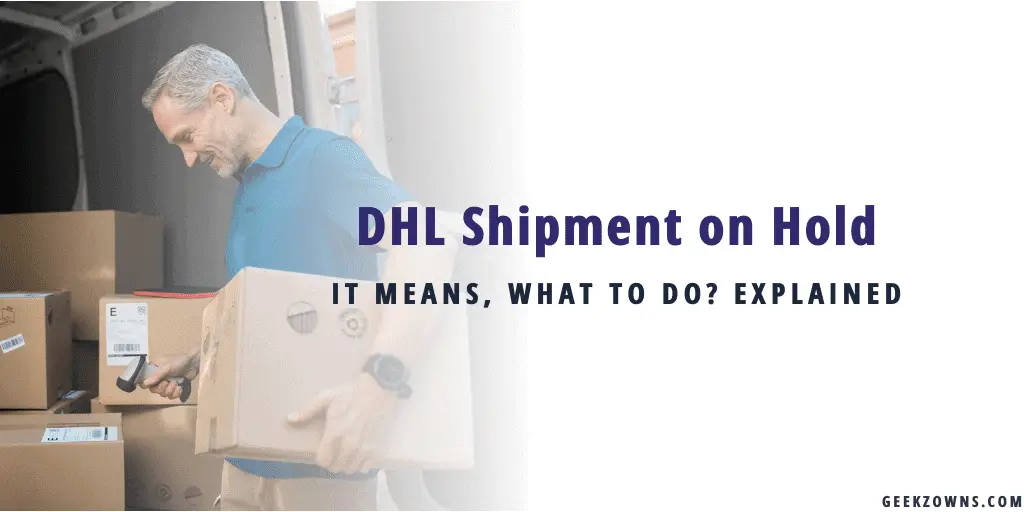 DHL: What does it mean?
A DHL Shipment on Hold means that the package is not moving forward in the shipping process for some reason. This could be because of an issue with the shipment itself or with customs clearance.
So If your shipment is on hold, This means DHL has to verify the shipping information and may need additional time to do so. 
There are also many possibilities in which the package can be held and also cause shipping delays such as Port congestion, bad weather, changes in shipping routes, stuck at customs officials, etc.
Reasons Behind DHL Shipment on Hold:
A shipment can be held for several reasons, including:
Bad Weather Condition
DHL tracking systems are dependent on good weather conditions to update package location and status. Also, packages travel in trucks in good weather, so If there is a major storm or other bad weather conditions in the area, this may delay the process.
And this could lead to late arrival, or it may also take longer than expected to arrive a package; however, it happens rarely.
Insufficient Delivery Information:-
One of the most common reasons for a shipment being held is because there is not enough delivery information available. When the DHL does not have any recipient information, such as a name and phone number, they will not be able to understand where to deliver.
Likewise, if the mobile number is not functioning, they will hold the shipment until the address and the person it belongs are confirmed.
Changes in Shipping Routes:
DHL often changes its shipping routes, or there is Port congestion, especially when they are in the process of transitioning from one carrier to another.
When they do this, it can cause a shipment to be held until DHL is able to confirm that the new carrier is still handling packages for that particular destination address.
Shortage Of Shipping Space
There might be a chance that your package has to get onto a certain truck or ship to make it to its next destination, but that truck or ship is overcapacity. If that occurs, then your package will not be loaded onto the vessel until the next one arrives and is ready to embark.
DHL Error
Another common reason for a package being held is because there was a mistake in the shipment procedure or there could be a slight error in updating information, or the DHL employee might have made a mistake that has changed the tracking status.
This could be a mistake on the company's part, or it could be that they have not received all of the necessary information regarding your package.
If this occurs, then they will hold the package and attempt to contact you or the sender to let them know that they need more information. Moreover, DHL uses systems to track shipments, but sometimes, these tracking systems may not update or update incorrectly.
If there is a problem with this system or with the employee who inputs the information into that system, your package may be held on hold until it can be confirmed that there is no problem with the information.
Documents Required by Custom
DHL may also hold shipments if they require further documentation from Customs. This can happen, for example, paperwork – when the value of the package is not declared, bill of lading, packing list, or it contains restricted materials.
This includes alc#hol, live anim#ls, or dr#gs. If you are expecting a shipment with these types of items, please make sure to contact the customer team beforehand to find out what specific documents they will need.
The sender or Receiver is not available
Another common reason for a package being on hold is that the sender or receiver is not available to accept it, and the delivery attempt was made.
This can be due to several reasons, such as being out of town or unavailable at the time of delivery.
In these instances, it's best to be patient and wait for DHL to update the tracking information.
Pandemic
Disease pandemics are another reason why DHL might hold a package. They can do this if the shipper or recipient is located in an area where there have been confirmed cases of the disease or they are being shipped to an affected area with further potential exposure.
If you're expecting a shipment that falls into this category, please be patient and wait for DHL to update the tracking information.
Other Reasons
DHL has many reasons to hold a shipment, including incorrect shipping route, missing documentation, Port congestion, DHL holiday, natural disaster (bad weather), customs department, etc. 
If you need further help understanding why your package is on hold, don't hesitate to reach out to DHL Customer Service.
How Long Does "On Hold" Last?
The shipment delay will largely depend on what caused it, such as if the shipment holds because of a congested area, this will likely be resolved quickly, or if the shipment hold issue is because of severe weather, then there would be a delay.
Most issues are resolved within 48 hours, but sometimes it takes a week, and No one knows when they will be resolved. Therefore, it would be better to contact customer care services as soon as the issue arises.
DHL: What Does It Mean When a Shipment is Pending?
In most cases, a shipment being held in "Pending" status means that the package has been received at DHL, but, for whatever reason, it's stuck waiting for processing. Either there were issues with the paperwork, or it requires special handling. 
In these instances, the sender or receiver should investigate what needs to be fixed in the shipment.
Pending" is also used when a package is received at DHL, but no details are available yet. This happens most often with international shipments.
If you're waiting for something that has been shipped from outside of the country, it's best to be patient and wait for DHL to update the tracking information.
In either case, if you have any questions or concerns, don't hesitate to reach out to DHL Customer Service. They'll be more than happy to help.
DHL: What can I do?
If your shipment is on hold, you can do a few things to help the process along.
-Submit any missing documentation as soon as possible. This includes customs forms and signed delivery receipts.
-Make sure that the shipping information is correct before submitting it to DHL. If you have recently submitted an address change request, your shipment will not be accepted for delivery at that location.
-Check with your neighbors to see if they have received a package from you since it may have been delivered without a signature if there was nobody present at the time of delivery.
If you need additional assistance, DHL Customer Service can be reached via their hotline or Live Chat.
Should I worry if DHL Shipment gets on hold?
No, you should not worry if your DHL shipment is on hold. As we stated earlier, this usually just means that DHL needs a bit more time to verify the shipping information.
It will get resolved in a few days, and you'll get an update on the location where it was sent from. In the meantime, you can always contact customer care services for more information.
Will DHL Be Able To Give Me A New Estimated Arrival Time?
Depending upon the situation, you might also be able to get an estimate of the DHL shipment hold when the DHL shipment package moves again.
Moreover, sometimes employees of DHL may be reluctant to provide an estimate in case there are further shipment delays due to the possibility of angry customers.
Nevertheless, you should still ask to see if the employee can provide an approximate delivery date. 
---
Why is my DHL shipment on hold in Cincinnati?
If you're wondering why your package is on hold in Cincinnati, it's probably because of a few things, such as there is something wrong or any problem in moving the package.
In some cases, your package may be on hold because it is being transferred from one facility to another. If this is the case, don't worry. DHL will move the package as soon as possible if the transfer has been completed.
---
Why is my DHL shipment on hold New York city gateway?
DHL uses the New York City Gateway facility as a hub to distribute packages to other locations. So there can be reasons for hold behind it such as huge packages, weather, traffic or something else.
Don't worry; your package will arrive within the expected time period. However, if you have a concern about it, get in touch with DHL customer support to know more about the package.
---
You may find this useful
---
FAQs:
There can be a variety of reasons why a shipment might be on hold with DHL. It could be that the paperwork was incorrect, the package needs special handling, or the shipper or recipient is not available to accept it.
No, you should not worry if your shipment is on hold. As we stated earlier, this usually means that DHL needs more time to verify the shipping information.
If you need to track down your package in order to determine if it has been shipped, you can track the package using the tracking info you've received.
In most cases, no. If the package is being held because of incorrect or missing documentation, it cannot be released until the issues are resolved. If it's being held because you or the recipient are not available, there is a way to retrieve it.
There may be several reasons for this. One of the main reasons is that customs may be holding it up. There could also be other reasons such as lack of vehicles, bad weather, disasters, or social unrest. Typically, you can find out why there is a delay by contacting DHL customer support.
Documentation is required for customs to release your shipment, so if your package is held there, you may have to provide the necessary paperwork, such as your commercial invoice, bill of lading, or packing list, so contact DHL to know all about it.
DHL mail tracking is a really simple process. You just have to enter the tracking ID which you received from DHL when the package was shipped. The information about the package will be displayed there.
To contact DHL customer services, you can call the following number: 1-800-463-5465. You can also use free DHL live chat support to speak with a representative.
Conclusion
Hopefully, this article has answered any questions you may have had about DHL shipments being put on hold and why there are further delays in arrival. If not, don't hesitate to reach out to DHL Customer Service for more information. They'll be happy to help!
Also, you can comment down below about the shipping company queries. We would love to help you further, and if you liked the post, don't forget to share it with your friends.
Originally posted 2022-09-16 22:30:00.