If you want to speak to a USPS representative but have no idea how to communicate with someone at USPS or talk to a natural person from USPS, this post will answer your questions!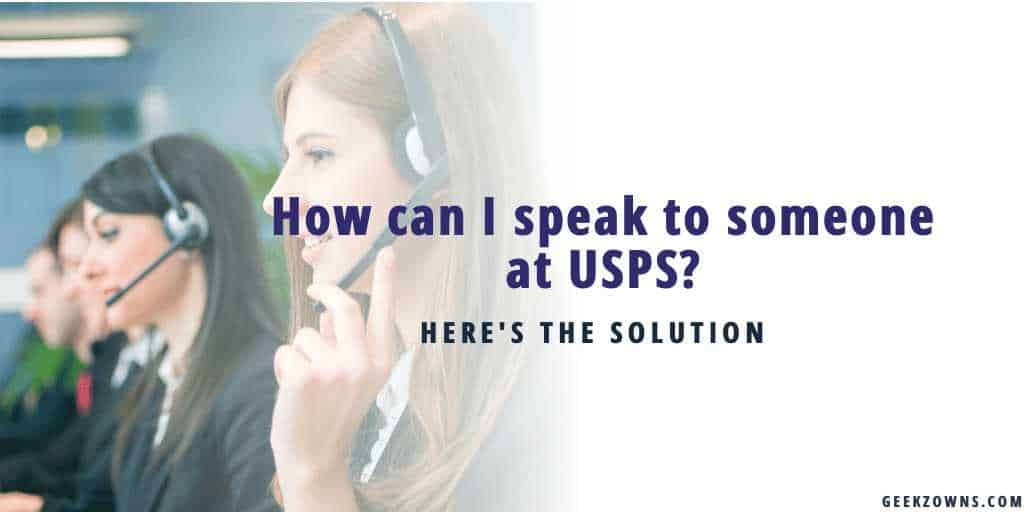 How can I speak to someone at USPS?
To reach USPS by phone or to speak to a live USPS representative, you can:
USPS customer service is available 24 hours a day, seven days a week at 1-800-275-8777. 
From 8 am to 8.30 pm EST, Monday through Friday, you can reach live customer service on this phone. On Saturday, you can get live customer service from 8 am to 6 pm EST.
For any problems with the above number, try 1-800-222-1811.
Press 1 to hear USPS privacy policy. By pressing 2, you'll be given the option of switching to Spanish.
Next, the system will read the menu options from the customer services automation system.
To use this trick, say "Agent" as the menu options are displayed. When the menu options appear, say yes to connect with a human.
Further, you can also contact USPS through email; you just have to follow the below-mentioned process.
Here are some other options you can try:
You can change your address, relocate, or inquire about your mail and delivery when you say' mail.
For questions about transportation, please contact the 'carrier.'
"Stamps" is what you should say when ordering. For stamps and post office store orders, call 1-800-782-6724 (1-800-Stamp24). During regular business hours, customer service lines for stamps and postal store orders are staffed Monday through Friday from 8 am to 8:45 pm EST and on Saturday from 8 am to 6 pm EST.
Please dial 1-800-610-8734 if you would like to receive free shipping supplies. Call this number to place an order to receive free shipping boxes, envelopes, and postal forms, or report a problem with your shipping supply order. 
Support for USPS free shipping supplies is available Monday through Friday from 7 am to 11 pm and on Saturdays from 7 am to 6 pm.
You can track a lost package by saying 'package.'
Contact USPS through Email
You can send an email with your issues by using this link.
Mail Updates.
Business inquiries
General queries
regarding USPS.com
Queries related to postal facilities.
If you have questions about these things, you can email them. The way to contact is good because almost all queries will be answered if the phone doesn't connect with a human.
USPS Social Media Links 
FAQs
The USPS provides live chat support from 8 am8.30 pm et 6 pm, be aware if you are trying to contact USPS in a live chat format.
Send them an email, give them a call, or leave a message on one of their social media platforms. The knowledge base can be accessed if you prefer self-service.
Final Thought
Finally, if you have any questions or queries regarding USPS, be sure to state them in the comments, along with any suggestions you may have. Our goal is to answer all your questions during this post!
Furthermore, you can share this list with your family and friends to avoid any future inconveniences. Thanks for reading!
Originally posted 2022-08-10 13:18:37.