You've got a problem with your shipping, and you need to speak to somebody – now. So how do you get in touch with a human at FedEx?
In this post, we'll share the best ways to get in touch with a front-line representative from FedEx.
We'll also give you tips on what information can help them help you faster if they don't already know the answer. So let's get started.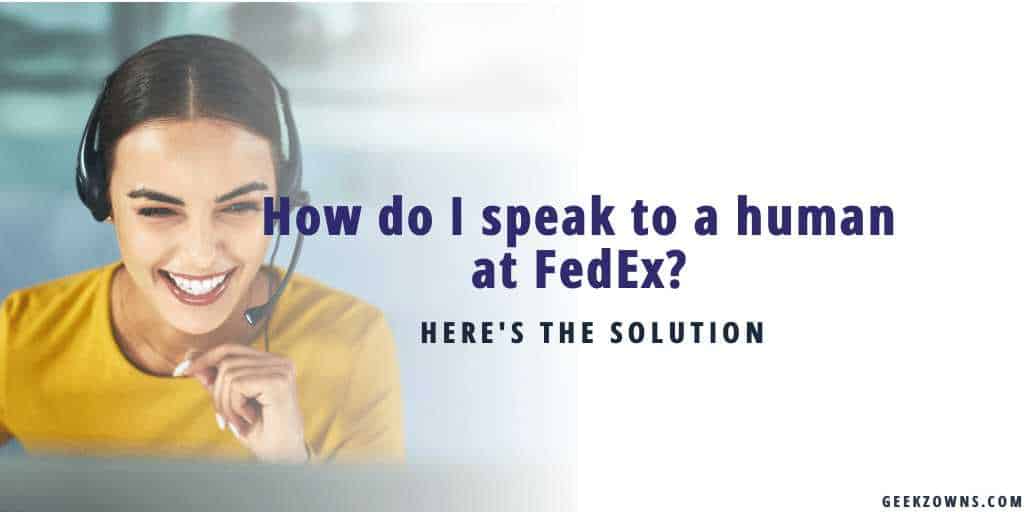 How do I Speak to a Human at FedEx?
FedEx is famous for its excellent delivery service and serving its customers worldwide with a vast international network of over 220+ countries through air-ground service within the stipulated time.
In some instances, contacting the customer service representative is not an easy task, which is why I wrote the blog post to help you out.
You can use the following ways or follow the steps to contact FedEx:
Dial 1-800-463-3339, and they will ask you to "give me options." Say this while on a call.
Press seven or say "more options," or if you wish for more options, then you can again repeat the same "even more options" else press 7.
And then say "it's something else" or press 8.
You will then be connected to a live person by FedEx's automated phone system. Additionally, you can try the below-mentioned process to contact FedEx Customer Support.
Mailing address for FedEx customer support
FedEx offers customers the option of sending emails. Simply go to this website to do so. Feel free to reach out to FedEx by email at any time. Customers can reach FedEx by email day or night. 
Support via Live Chat
If you would like to talk with a FedEx agent live, it is possible to do so via the live chat option. You will be connected to a Virtual Support Assistant, and the only thing you need to do is go to this page.
Other FedEx Call Center Number
How do I Speak to a Human at FedEx: Here are the customer services numbers of FedEx.
1-800-463-3339: FedEx Support Phone Number
1-888-465-5646: Contact volume services.
1-800-435-7949: Contact technical support
1-800-249-2953: Contact FedEx trade networks.
1-800-889-8723: Contact "My global trade data."
1-800-463-3339: Contact FedEx ground customer service
So, why do people call FedEx live?
There could be several reasons attributable to it, like tracking their shipments, deliveries, etc. If there is a delay, they also seek information about the status update, insurance claims, credit card charges queries, etc.
Important points to keep in mind while calling at FedEx:
Be sure to correctly type the number before calling and have all the documents ready in hand at the top me when you make a call like invoices, tracking numbers, credit card statements, etc.
What Kind of Issues can FedEx Customer Service Representative Resolve?
FedEx customer service representatives can resolve a variety of issues, including package tracking, delivery confirmation, and damaged or lost packages.
They can also help customers resolve disputes with the company or with other customers.
Additionally, customer service representatives can provide information about FedEx products and services and help customers place orders or make changes to their accounts.
If a delivery does not happen, customer service representatives can provide the customer with specific information regarding the nature of the problem and what has been done to resolve it.
They can also provide information regarding the delivery time and any other pertinent details.
FedEx Social Media Links 
Related Posts:
FAQs
Please contact Us Customer Support at 1-800-463-3339 if you would like help tracking the status of your orders and shipments. 
You can reach the general customer service line at 1-888-463-3339. A FedEx representative will be able to assist you using the automated system. 
Final Thought
That's it for today's post; you just have to follow the proper guide to speak to a human at FedEx. I hope you liked the post and find it useful.
Please comment on all questions, suggestions, and queries regarding speaking to a human at FedEx. It will be an excellent opportunity for us to have all your queries sorted out. 
Furthermore, you can share this list with your family and friends to avoid any future inconveniences. I hope you had fun reading!
Originally posted 2022-07-31 03:00:00.