Have to send something to Canada, and you're wondering How Many Stamps Do I Need for a Letter to Canada? There is no need to worry here; you'll know all about Postage To Canada.
As we all know, sending something somewhere requires a postage stamp; without it sending is not possible, and when the distance is far away, the confusion also arrives like How many Postage you need to send something To Canada From The U.S.
But don't worry, here I'll be explaining everything about the Postage To Canada, so let's get started.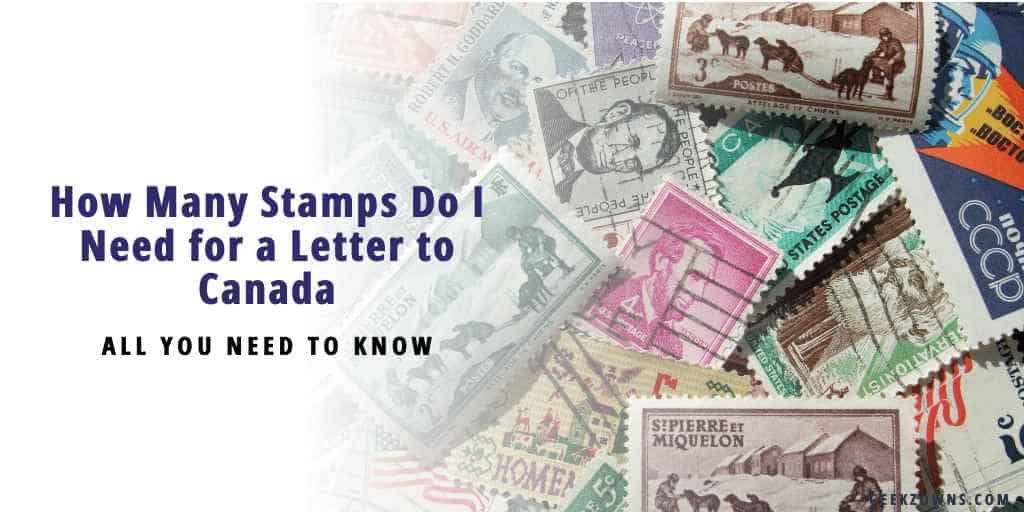 How Many Stamps Do I Need for a Letter to Canada In 2022?
Postage for greeting cards, business envelopes, and postcards to Canada weighing less than 2 ounces will be covered by one Global Forever Stamp in 2022. A large envelope or a flat requires two Global Forever Stamps (for an item weighing 1 ounce). You can also use stamps from the Canadian Forever Stamp series, ounce stamps, and cent stamps.
The first step is to choose your Postage. Consider the weight and shape of your mail as well as its final destination. 
Once you know how much it weighs and how large it is, you can determine how many stamps you need for a Letter to Canada With the United States Postal Service (USPS) calculator. From there, you can choose between domestic stamps and international Postage.
The USPS offers a full suite of services to help send mail worldwide. And with many convenient options, it's easy to figure out how many stamps you need for a Letter to Canada.
Related: Where To Buy Stamps Near Me – easy ways to locate
How Much Does It Cost to Mail a Letter to Canada?
The cost for a Letter To Canada is dependent on your origin and destination. So, In order to calculate the cost of shipping to Canada, we need to know the weight of the item and the service you choose.
This section will provide information about the shipping charges incurred by international mailers when sending standard-sized letters via First-Class Mail International.
The maximum weight of a letter (ex., a greeting card, an envelope, a business letter, etc.) to be sent to Canada is 2 ounces, and one Global Forever stamp can be used.
Currently, USPS sells Global Forever stamps for a price of $1.30.
In order to send letters weighing up to 3.5 ounces to Canada, the First-Class Mail International service can be used.
In terms of pricing, here is what you can expect to pay for this service, depending on the weight. You will need to round your weight up to the nearest ounce if your item falls between two weight categories:
ounces – Price
1 – $1.30
2 – $1.30
3 – $1.83
3.5 – $2.36
Cost Of Posting Parcels To Canada From The U.S:
| | | |
| --- | --- | --- |
| Parcel Weight | Expected Delivery | Starting Price* |
| 1lb – First-Class Package International Service(Min. length 6″, Min. height 4″, Max. length 24″) | Varies by destination | $21.25 |
| 1lb – Priority Mail Express International(Max. length 59″, max. length plus girth 108″) | Within 3 days | $50.30 |
| 10lb – Priority Mail International(Max. length 79″, max. length plus girth 108″) | 6-10 business days | $64.25 |
| 25lb – Priority Mail International(Max. length 79″, max. length plus girth 108″) | 6-10 business days | $108.60 |
| 50lb – Priority Mail International(Max. length 79″, max. length plus girth 108″) | 6-10 business days | $182.60 |
How To Calculate Postage To Canada With USPS?
If you are planning to send something to Canada, it is important to calculate the Postage beforehand. Shipping an item to another country involves several different factors, including weight and type of mail.
The USPS website has a postage calculator, which can be used for calculating shipping costs.
There is a simple way to know How To Calculate Postage To Canada With USPS, you just have to follow the given procedure, and you'll be able to do it.
To begin, you will need the following information:
Your shipping address and the destination address.
Your parcel's dimensions.
How much the package weighs.
Steps to take:
Click here to access the USPS postage calculator.
The destination country should be selected (if you utilized our link, then Canada will already be selected).
In the case of sending a parcel, you need to enter an estimation of its approximate value; in the case of sending a letter, you can enter $0.00.
Next, you need to choose the date and time you will send the mail.
Choose the type of package or letter you would like to send at the bottom of the page.
There may be a need to enter the dimensions and weight of your parcel on the next page (depending on what you select).
Depending on what you select, the shipping options will then be displayed.
Related: Do CVS Sell Stamps
How long does it take for mail to reach addresses in Canada?
Canadian addresses are generally delivered fairly quickly – though you should expect your letter to arrive at its final destination within at least five business days of sending it through the post.
Most first-class mail sent to addresses in Canada will take between 7 days and 21 days to arrive, although some can take even longer than that. It can take considerably longer for some letters sent from other countries.
Do my packages go through customs?
Yes, definitely! Every piece of mail that you send to another country – even an envelope with a letter inside – has to pass through customs.
As part of the U.S. Customs process to release your mail to Canada, not only will the United States Postal Service handle their side of things, but the Canadian Border Services Agency will screen some packages as well.
Whenever you send a package to Canada, you can choose to print all kinds of information regarding customs declarations on the package label. 
These kinds of declarations are not usually part of letters – and only need to be made if something of value is being sent across the border.
Otherwise, you can fill out the information on the customs declaration form online, print it out, and attach it to your package. The online version of this form is straightforward to use and will ensure that Canadian Customs will handle your package in the correct manner.
Can I Track Mail When It Moves Through Canada?
If you mailed your package, parcel, or envelope, to begin with, you were provided with tracking information when you sent it. You will be able to track your mail as it travels through Canada almost always with the same tracking information.
While USPS First-Class Mail is not trackable (traditionally), you can opt to pay a little more for premium tracking services when you send letters to Canada. Nevertheless, registered or certified mail can be more cost-effective (and faster).
There will definitely be tracking after the packages cross the border and arrive in Canada. The tracking tool allows you to track your package as it arrives at its final destination in Canada, regardless of its origin in the United States.
In addition, you can track packages sent from Canada through the post. In most cases, international tracking will help you to monitor the progress of your mail as well.
Related:
FAQs:
Yes, once your package has been shipped and is in transit, you can track it to find out where it is and when it will be delivered.
The Canada Post tracking number is going to be printed on the label of your package. If you need more information, you can check out their website.
For shipping packages within the United States and then into Canada, it will cost between $10 and $40 in most cases.
If you are sending a parcel and you do not declare goods, you can be subject to penalties. However, there are no penalties for letters containing nothing valuable in them.
It's a good idea to fill out the customs declaration in order to avoid any delays. In most cases, unless you declare something of value, you can leave it blank anyway. Please note that if you are sending valuable items across the border, you have a much higher chance of having your letters go through customs.
The letters sent from the United States that the United States Postal Service has sent typically delivered within five to twelve business days of being mailed. If you paid for a tracking number, it would definitely help you to monitor its progress and delivery.
In most cases, yes.
Conclusion:
Hopefully, you are now aware of everything you will need to know about sending mail to Canada; how Many Stamps Do I Need for a Letter to Canada, and to track it as it travels through the country.
As you can see, shipping letters and packages to Canada is not a very difficult process. In fact, it can be done in just a few minutes!
When you understand the basics of the United States Postal Service and Canada Post policies, you will learn that this simple process is actually quite safe and reliable.
Again, I highly recommend that you take advantage of the online options for mailing your mail to Canada – it will save you a lot of time and confusion.
If you have any questions at all that were not answered here, you can leave a comment below, and we will get back to you as soon as possible.
Don't forget to share it on social media if you liked this post.
Originally posted 2022-08-05 21:00:00.