Consider providing delivery services through DoorDash if you're searching for an engaged source of income that will get you moving around your city. DoorDash hires people like you to deliver packages for the service of local eateries.
You will not require a car to deliver meals for DoorDash, based on your region, and instead can do so by walking, cycling, or driving.
Due to the increased demand for delivery services, it may be a profitable side job for anyone trying to supplement their income or pay off financial burdens.
In this article, I'll explain how to get started as a DoorDash driver. How much can you make with DoorDash? Can you make a living off DoorDash? How much can you make on Doordash in a day? How much do Doordash drivers make a week? 
To clear all the above questions, read this entire article.
So let's get started.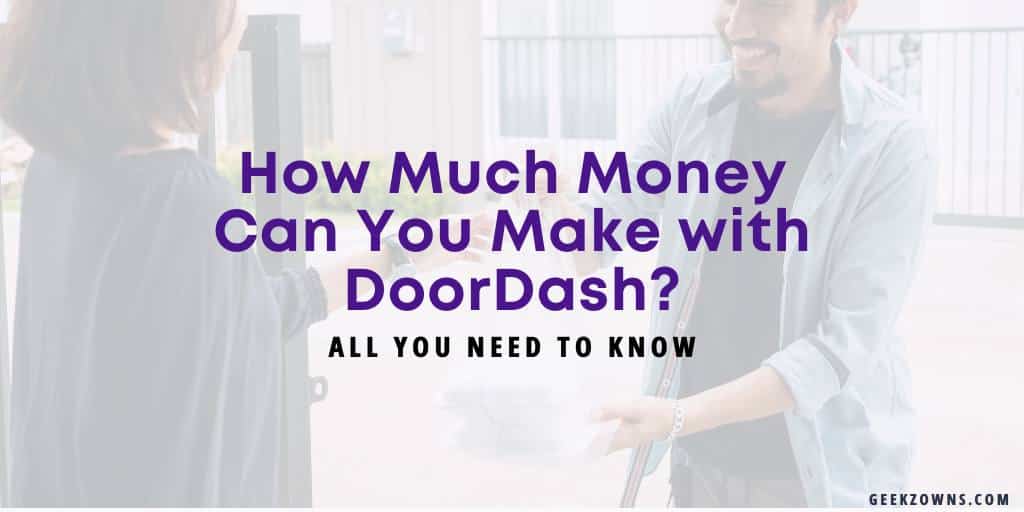 What is DoorDash?
DoorDash itself is not officially a food delivery firm. A transportation firm created software connecting customers' internet orders with restaurants and drivers.
It was created by a team of youths in the San Francisco location and is one of the most legitimate money-making apps available.
DoorDash has two apps: a food delivery app for customers and a driver app for independent contractors. Both the applications are available for free download. However, if you want to work for DoorDash as a driver, you'll need to have the driver app.
DoorDash is a delivery service that is offered in over 800 cities throughout North America. Enter your address to verify if it's accessible in your location before signing up. 
What Are The Pay Rates For Doordash Drivers?
The average hourly wage ranges from $15 to $25. Doordash establishes a per-order lowest salary pay range of $2 to $10. 
The quantity is determined by your location and the time of day when restaurant delivery timings are at their peak. You can select when and how frequently you work as a DoorDash driver. 
Earnings fluctuate significantly from one DoorDash driver to another due to the considerable flexibility. The amount you can earn is determined by where and when you deliver. 
During peak time, Peak Pay is offered, which adds $1-$5 to each delivery. By going to the Promos section in the app, you can see when Peak Pay time slots are offered.
Is It Possible To Make A Decent Living From Doordash?
Though DoorDash may assist with significant amounts of money, I don't believe it can be used as a full-time source of income for most people.
Yes, some people likely rely on Doordash to make a living. These are, nevertheless, exceptional in comparison to the ordinary wage earner.
DoorDash would not be sufficient to optimize your lifetime earnings with a platform economy app on its own.
Many couriers use various applications to receive as many customer orders as possible, allowing them to be more cautious and deliver just higher-paying orders.
Even using various delivery apps, you must consider your regular basic expenses and salary targets.
If you reside independently and are reasonably economical, you could be able to continue working for DoorDash. 
When It Comes To Doordash, How Long Does It Take To Generate Money?
Delivering with DoorDash is a quick way to get money. According to the website, most Dashers begin making money within a few days after signing up. Payments usually arrive in your bank account in two to three days. 
You can get daily pay sent to a prepaid debit card if you sign up for a DasherDirect account.
What Is The Process For Drivers Using Doordash?
You can use the Driver app and browse potential deliveries anytime your schedule permits after your application is approved, which generally takes three to seven days and you complete setting up your account.
You'll see information about each prospect, such as its location and salary rate. You have 40 seconds to decide whether to accept a delivery from DoorDash. If you get it, the app will guide you through the process. 
Typically, this entails going to the restaurant and giving the customer's name, then picking up and delivering the order to the customer's location. Repeat the process as aimed.
Faqs:
As a Dasher, you can earn anywhere from $2 to $10 every order, with bonus compensation for promotional offers and 100% of the tip. Obtaining a certain number of deliveries in a certain amount of time may entitle you to additional incentive money if you deliver your order during peak times.
Yes, If you work full time and stay in hot areas when most of them are coming, you'll surely make that much money. 
Doordashing is one of the most simple and direct jobs, particularly for college students. You get the most flexibility in scheduling possible, ultimate control over which orders you accept or refuse, and the potential to earn great money if you work in the correct areas.
Conclusion
With DoorDash, you can expect to make at least $300-$400 every week. If you're searching for a low- to medium-effort source of income that doesn't require you to work long hours, Doordash is an excellent option.
If you're currently a Doordash driver looking to boost your earnings, keep in mind that it all comes down to where you reside and how many hours you operate.
With DoorDash, experienced drivers who work a lot might earn $1,000 per week or more.
So this was all about How Much Money Can You Make with DoorDash; I hope you have got all your answers. Comment below if you have any questions, and share this post with your friends if you found it useful.
Originally posted 2022-08-02 14:00:00.