Want to work as a DoorDash driver and don't know How To Become A Doordash Driver?
DoorDash is the most widely used meal delivery service in the US. It probably runs in all cities of any size. You may have ordered food from your favorite eatery using DoorDash. 
With DoorDash, you may operate as a self-employed individual, choosing your hours and how frequently you make deliveries. It's a versatile job that many people find success as primary employment or additional job.
You may be wondering- how to become a DoorDash driver? Don't worry. This post will help you to become a DoorDash driver. To know everything in detail, continue reading this article. 
So let's get started.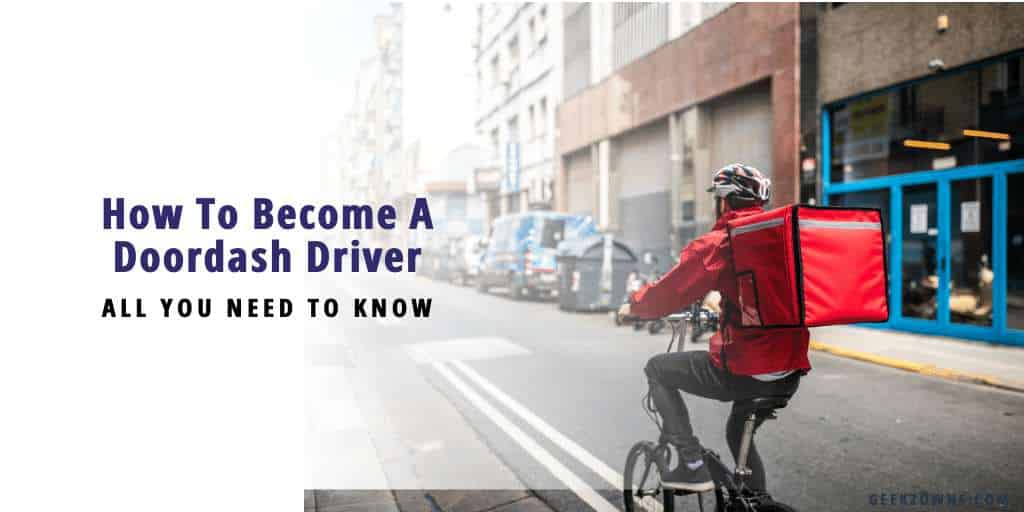 How to become a driver in DoorDash?
Being a Dasher is a basic procedure.
Start by opening a web browser and going to the DoorDash sign-up page.
Fill out the form completely. You must first provide your name, email address, and phone number before setting a password for your profile. Remember this password.
You'll be questioned regarding your car, insurance, and driver's license details. Insert this data, then select "Continue." Keep in mind that you only need access to a vehicle—you don't need to own one.
You'll have to consent to a background investigation. The background investigation searches for sexual offenses, crimes, and other serious problems that would indicate you present a hazard to future security. If you want to review the background check, you can ask for a free copy.
Complete the application. To receive a free activation kit from DoorDash, which you'll need to begin working as a driver, you must input your address.
It will take several days to complete the background check. Once it's finished, you'll have to complete an online orientation.
The whole procedure can be completed online.
Requirements for DoorDash driver:
You must check the criteria to see whether you meet the requirements before initiating the application process to become a Dasher.
The minimum age requirement is 18.
Having a valid driver's license is required.
The Dasher App can only be downloaded using an iPhone or Android smartphone. You must own one.
You need to have access to a vehicle.
If your car needs insurance, you must get coverage that complies with the state's minimum standards.
You must give your social security number to DoorDash.
DoorDash needs your confirmation to conduct a background check.
You should not have any crimes or fraud in your records.
Last but not least, you have to finish the in-person or online orientation process.
The DoorDash background check:
Every candidate must have passed a background investigation. Utilizing Checkr, a third-party business, DoorDash can look into your background and detect various facts.
The background check is a relatively simple procedure; much like that, you may receive full-time employment.
Your age and other essential details will be confirmed. They will investigate your criminal record. Some people struggle to pass a background check, but most don't.
If a history of violent offenses is revealed during the background check, one's application will be immediately refused.
DoorDash automatically rejects anyone with a criminal record since it takes customer security and safety very seriously.
How long you've held your driver's license will be confirmed by the background investigation. Do not even try to apply if you have been driving for less than two years. Wait until you've been going for two years before doing so.
How long does the approval process for DoorDash take?
The complete approval procedure typically takes five to ten business days.
The background check frequently consumes the most time. Background checks performed by DoorDash are typically completed in 5-7 days.
There are more than 3,000 counties in the United States, but there isn't an official criminal background database that allows for quick searches across all of them.
Anticipate your background checks to take approximately ten days if Checkr needs to process previous infractions against you. Processing times for motor vehicle record checks vary depending on your state.
While some states submit their reports within a few days, others take longer than a week.
Advantages of driving for DoorDash
You don't need a personal vehicle to become a driver of DoorDash's distinguishing features over other well-known gig economy apps. Moreover, During peak hours, bonus pay is offered.
During lunch and dinner rushes, DoorDash offers bonuses and incentive payments. However, the precise timing and amount depend on the region. 
Almost every significant U.S. metro area, numerous secondary and tertiary metro areas, and a sizable number of smaller towns and regional hubs are all served by DoorDash.
You most likely reside in or close to a DoorDash market for Dashing, to be practical.
How safe is DoorDash?
DoorDash is secure. Similar to how Amazon is a legitimate product delivery service, this is a good meal delivery service.
Food delivery is, by its nature, a low-risk activity. You'll merely enter a restaurant, take your customer's order, travel to their residence or business, and hand them their bag.
To protect drivers and clients, the firm has liberally used safety features, including contactless delivery.
Frequently asked questions:
Through DoorDash, millions of people place meal orders. When a consumer orders something, Doordash provides the deliveries to Dashers, who get paid to pick them up and deliver them.
You only need a smartphone and a means of transportation, like a car, bike, scooter, or motorcycle, to make money. Other than that, DoorDash will handle everything.
You hold power and authority. You can choose to drive wherever and anywhere you choose since you are an independent worker. You can dash almost anyplace and do it full-time, part-time, or occasionally. It's a fantastic substitute for seasonal, transitory, and part-time employment.
Nope! No prior work experience is necessary. However, delivery for DoorDash is a fantastic way to make money if you have previous experience in the courier, food, or rideshare industries.
Conclusion
The opportunities are endless when you join DoorDash. You can choose how you want to work and be compensated. Additionally, you can perform a second job in addition to your DoorDash delivery employment.
You can start your application right away if you think it sounds appealing. If you don't have any criminal convictions or charges on your driving record, your application should be accepted. You can start making money from delivery as soon as you register.
To work as a DoorDash delivery driver, you only need the following:
Mode of transportation
Driver's license(if applicable)
Social Security number
Smartphone
With a little commitment, you might start earning money immediately. So this was all about How To Become A Doordash Driver. We hope this article provided you with all the information you needed.
If you have any questions or suggestions, feel free to leave them in the comments below.
Found it useful? Share it With Your Friends!
Originally posted 2022-07-29 04:30:00.