Got "Received by the Carrier" tracking status and don't know what it means? Read this post till the end to know all about it.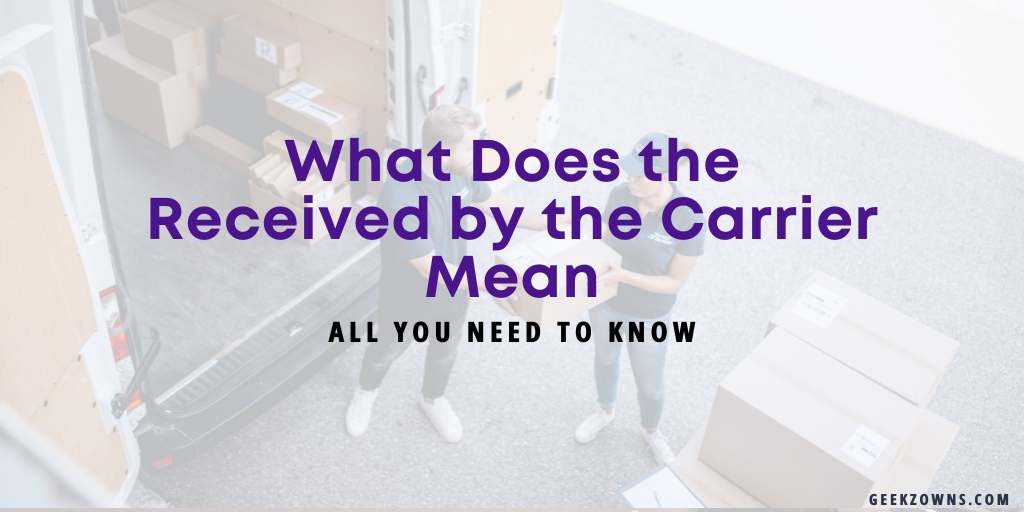 What Does Received by the Carrier Mean?
The phrase "Received by the Carrier" indicates that the carrier in charge of international transit has picked up your shipment after it was shipped from the warehouse fulfillment center. 
A distribution center run by a delivery service is referred to as a carrier facility. It is constantly bustling with activity, often far into the night. 
Packages are delivered by trucks to addresses in the area that the carrier facility serves. Packages headed outside are picked up by other trucks. 
Deliveries are picked up by delivery vehicles and delivered to consumers. It's possible for the order to make many carrier facility stops if it comes from a distance. The package is sorted and placed on a different truck every time, which brings it further to its target.
What is the status of your package after it has been "Received by the Carrier"?
Depending on the method of shipping booked, the shipment is at the port of exit, which may be an airport, railway, or harbor. 
Your package has been "Received by the Carrier," which is similar to the "received by line-haul" status alert, which signifies it is now being prepared for international transit to the target nation.
My Package is Stuck on the Received by the Carrier Update
Apparently, packages frequently appear to get stuck on the "Received by the Carrier" for an extended period of time When a shipment is not scanned at the departure point for the origin nation.
Your package may start its international transit without you having any concrete proof of it if the carrier fails to offer any updates at this point.
The receiver may find this irritating, which is understandable. The truth of purchasing goods from an eCommerce company is something like this, though. The tracking might be spotty in the initial stages of shipping.
Related: What does A Late Flight has Caused a Delay UPS mean
So what should I do if my tracking is stuck?
The first and last thing you should do if your tracking updates are still stuck is to be patient.
It thus, combined with the potential reliability issues with early tracking updates, leaves you with no choice except to relax and have trust that the delivery is indeed on its way. To find out what has happened, get in touch with your shipment carrier.
What happens after a package arrived at a carrier facility?
A notification that an order has "arrived at carrier facility" may have been sent to you. It can be at the nearest postal delivery facility to your home. 
So then it will then proceed to the next stage of its route, which is loading a delivery truck to take it directly to your house.
Some shipments make stops at various transport facilities. As a result, the phrase "Arrived at carrier facility" may just denote that one stage of a multi-stage journey for your shipment has been accomplished.
Related: Your package is pending release from a Government Agency UPS means
Here's More
What Does "Order information Received by Carrier" Mean?
Another update that bears some resemblance is "Order information received by the carrier." Your product seems to be in the warehouse, nevertheless, in this circumstance.
You are informed by the alert that a shipment has been ordered by the carrier in charge of sending the consignment. 
Alternatively put, the carrier has received the shipment's specifics. Prior to the product being in the carrier's control, you can also get an "Awaiting Fulfillment" notification.
Related:
FAQs:
In order to arrange for your parcels to be picked up by your postal carrier concurrently with the delivery of your mail, you can make use of USPS's Carrier Pickup service.
Like the majority of carriers, USPS has no clear policy on how long a package must remain there. However, parcels often stay in a local USPS facility for 1-2 days before being sent to the next location.
Conclusion
The tracking update "Received by the Carrier" informs you that the order has left the seller's warehouse and is now in the care of the company in charge of the shipment's international transit.
The shipment is still in its origin country, and there remains a great distance to travel. Do not panic if it takes some time before you receive another update. Most of the time, the package is moving slowly forward. I hope you found this post helpful.
Let us know if you have any questions about this post, and don't forget to share it if you liked it and found it helpful.
Originally posted 2022-11-27 11:00:00.