Can you send a gift anonymously on Amazon? Even when it's not Christmas, it might be alluring to play Secret Santa every now and then, or you might need to send a present anonymously as part of a surprise. 
Therefore, you might be thinking if you can send an Amazon gift anonymously, just like many other individuals. 
Giving a present to anyone you love deeply anonymously may be a kind approach or a funny way to taunt a buddy. 
You should be aware of a few things if you're thinking about making an anonymous Amazon gift. Continue reading to learn further about sending a gift on Amazon anonymously.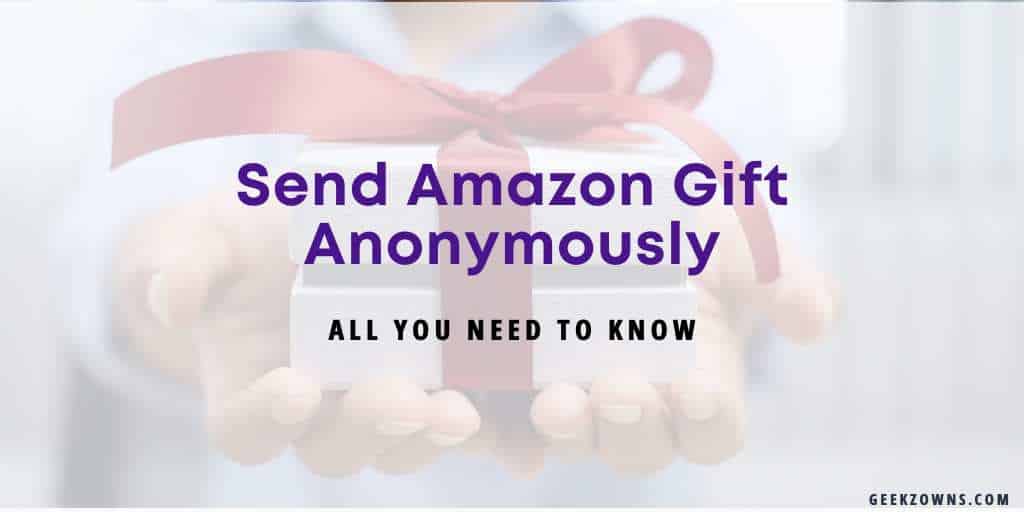 Can You Send an Anonymous Amazon Gift?
Some techniques make it more challenging for the receiver to identify the giver, even though sending a gift anonymously through Amazon may not be possible. Membership with Amazon Prime is required first. You may use it to send a gift that contains the sender's address and name without including a receipt. 
You may avoid entering your billing information by paying using an Amazon gift card, which is the second option.
The receiver will likely see the amount of money you invested in the present, so if you prefer to keep that details secret, you might want to consider another approach. 
Regardless of your intentions, a gift given in secret may be interpreted as damaging or malevolent and may anger the receiver. Choose a present you believe the receiver would value and feel good receiving if you go forward with an anonymous gift.
You may indicate whether an order is a gift when placing one on Amazon. If you don't choose this selection, the billing address will be included on the packing slip or gift receipt sent with the gift, making it feasible to determine who the giver is.
When they get a gift without the sender's name, some consumers could think the transaction is fake. 
The sender has the choice to ask Amazon to exclude the gift receipt. Keep in mind you choose No Rush Delivery as your shipping choice. If you don't pick this option, Amazon will default add your return address to the mailing label. Therefore it is crucial to complete this step.
How Can I Anonymously Send an Amazon Gift?
You must purchase an Amazon gift card for the desired gift amount plus shipping and taxes to send an anonymous Amazon gift. The gift card will be sent to you through email if you choose yourself as the recipient. Select the present you wish to buy.
Check the box that says Add gift choices.
Choose it from your shopping cart.
Tap Buy now.
Include the shipping address.
Select appropriate gift choices.
Sending the present recipient a digital copy of their gift receipt via email will make returns simple for them.
To continue after saving your gift selections, click that button.
Follow the payment procedure to get your gift sent.
How to Use an Amazon Gift Card to Send an Anonymous Gift?
You can also use an Amazon gift card in order to send an Amazon gift anonymously, but this needs to be done in two stages in order to be successful.
To begin with, you will have to buy an Amazon gift card that is worth the amount of the gift that you wish to send, plus shipping and taxes.
The gift card can be emailed directly to you if you select yourself as the recipient of the gift.
As soon as you receive the gift card via email, you can use it in order to purchase the gift itself. Put the item you want to send into your shopping cart and then select the item you would like to send.
When you are at the checkout page, make sure that you check the "This is a gift" box, and then add the address where you want the gift to be delivered.
If you choose the option for a "Gift Receipt" on the "Choose Gift Options" page, it will hide the price of the item on the packing slip once you check the box.
Last but not least, you need to pay for the gift with the gift code or voucher that you received. You will not be able to identify the person who sent your gift to the recipient as your address will not appear on the gift receipt.
Faqs 
You must purchase an Amazon gift card for the desired gift amount plus shipping and taxes to send an anonymous Amazon gift. The gift card will be sent to you through email if you select yourself as the recipient. You can use the gift card to purchase the actual present once you've received it via email.
You may send an Amazon gift to someone else while keeping the giver's identity a secret by choosing the gift option, as seen above. Depending on your desire, you can put anything or nothing in the name area.
The gift receipt and message should be examined for any sender identification information first. Look up your order history on Amazon's website to double-check if the gift receipt is missing any crucial information. The gift receipt has to have the name and address of the sender. The sender might not wish to be identified if you don't see any information.
Conclusion
This article describes how to use Amazon to send a gift anonymously. You may send Amazon gifts anonymously using a few different methods. 
Remember that you should employ these ethically and not in any way that might offend or end up harming the recipient of the gift. By purchasing an Amazon gift card in a store, you can opt to mail gift cards to Amazon anonymously. 
Then, send this card directly to the address below without a forwarding address. A gift receipt with your name on it will not be included if you order gift cards from Amazon after doing so. 
I hope you found this post helpful. If you like this post, don't forget to share this with your friends and family.
Originally posted 2022-10-20 10:00:00.