Are you Looking for how to USPS Mail Forwarding Cancel? or How To Stop Mail Forwarding? If so, You're in the right place. Read this post till the end to get to know the whole process and all the information.
The US Postal Service is possibly one of the most famous organizations globally. This essential agency provides affordable international delivery, as well as centralized mail processing in the United States.
That's what makes them one of the most reliable service providers on the web. The USPS is widely known for its excellent customer service.
One of the things that makes it great is that items can be canceled with a simple call (or an online form), and customers can even expect a full refund if they don't want to continue with their forwarding arrangement.
So, If you've had packages shipped to you through USPS, and you're moving, or leaving your place, e.g., a hostel or a PG (Paying Guest Accommodation),
The USPS Mail Forwarding service can help you change your package's address or move it to another location.
However, there are many circumstances when no matter what or for what reason, you are still living at your place, and have already requested USPS mail forwarding, now there is no time left, and you're forced to cancel your request.
Many people experience it; is it the same with you? This article will give you step-by-step instructions on how to cancel your forwarding service with USPS through their website, or by calling their customer service line.
It's a little bit more complicated for their online form than for the phone, but it's well worth it in the end.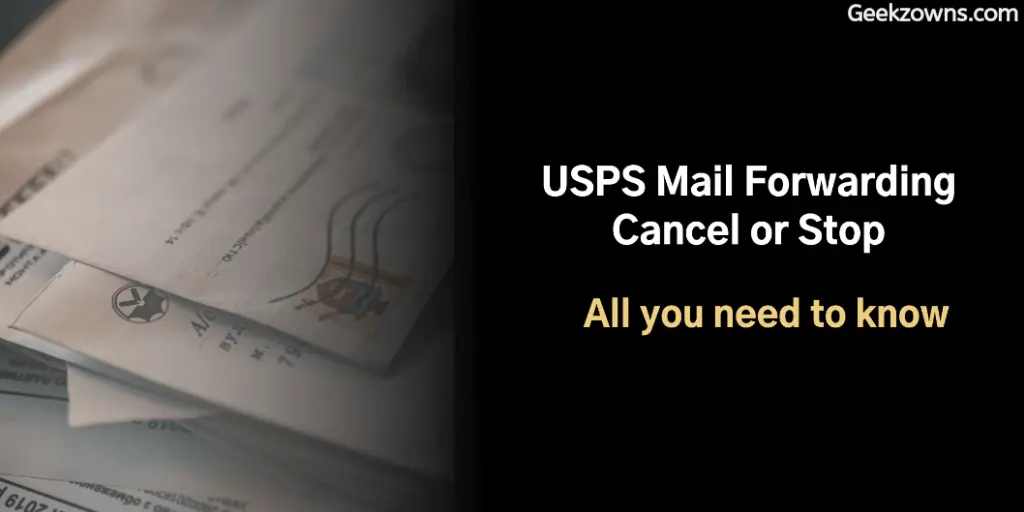 How to Cancel/Modify USPS Mail Forwarding
If you have relocated or are planning to relocate, then you have to request mail forwarding to the post office with all the necessary documentation, including hard copies of documents of the shipping details and the forwarding copy,
As well as to all the agencies and online shops where you have provided your address.
So They can make changes to your mail forwarding, and the new packages will go to your new address. Now let's look at how to do it with USPS.
How to update, modify, or cancel that mail forwarding request.
Cancel or Stopping Mail Forwarding of USPS is simple; you just have to follow the below-mentioned steps.
Visit the USPS's official site – www.usps.com and click on the option called "Change of Address" in the menu "Receive" category.
After clicking on the "Change of Address," you will be redirected to another page, where you can see highlighted text called "Need to view, update or cancel a Change of Address order you already submitted?" click on that link.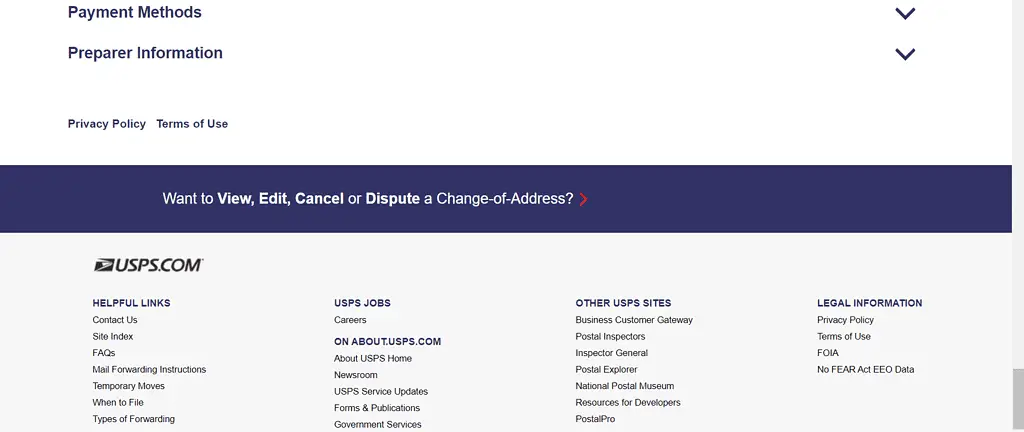 After clicking that link, the page will send you to another page and enter the 16 digit confirmation code which you got from USPS while requesting mail forwarding. 
[To find confirmation code, check your email if you had requested online and if you requested from the post office then you can find code from the paper which you had received from the post office]
In the second box, enter the zip code to stop or edit USPS's mail forward and click on the submit button.
Now you can see all the information about the shipment and the option to cancel or modify the address.
You can edit much information from that page, such as –
Edit and add a new email address
You can enable this to get expiration date reminders of the mail forwarding.
Change the temporary move end date, if you had requested for this.
Change the contact details i,e.- mobile number.
Modify your move as permanent from the temporary move.
Modify your family move as an individual move. However, you can not revert from individual move to family move.
Cancel your change of address request or mail forwarding order etc.
Note- you can not modify or edit more than two options in 1 day. If you try to edit more than two pieces of information, then you will get the error that "You have exceeded the number of changes that you can make on the same day. Please try again in 48 hours." however, you can stop or cancel your address changing request.
If you want to change the info which web page doesn't allow you, you have to stop the address order change and file a new change of address order.
Related Posts:
Faqs related to USPS Mail Forwarding Cancel or Stop
If you had requested online for mail forwarding, then check your email, or if you had requested from the post office of USPS, then check the confirmation receipt, which you got from the post office.
Follow the above faqs answer; if you didn't find your confirmation code, then simply go to your nearest post office to cancel or update the mail forwarding request.
Conclusion 
This is the way to cancel or stop mail forwarding requests. I hope you will now understand all the things and be able to edit details; if you have any doubt about this How To Cancel or stop Mail Forwarding of USPS, let me know in the comment section.
If you liked this post and found it useful, share it with your friend and family members on social media.
Originally posted 2023-01-15 11:00:00.