This post will discuss an essential aspect of USPS, i.e. Business account, and the significant difference between a USPS Person and a Business account.
USPS offers excellent services to its customers and continuously updates its system to have a good customer base. 
It is a specialist in providing official, household, business, postal services, etc., and serves customers worldwide.
Many customers would be aware of a personal account in USPS but not so acquainted with a business account in the latter. 
Also, there is often a dilemma of the cost involved in using a business account,i.e. "Does the USPS Business Account involve high pay rates compared to a USPS Personal Account?"
All the answers to your queries are written below. SCROLL for more information!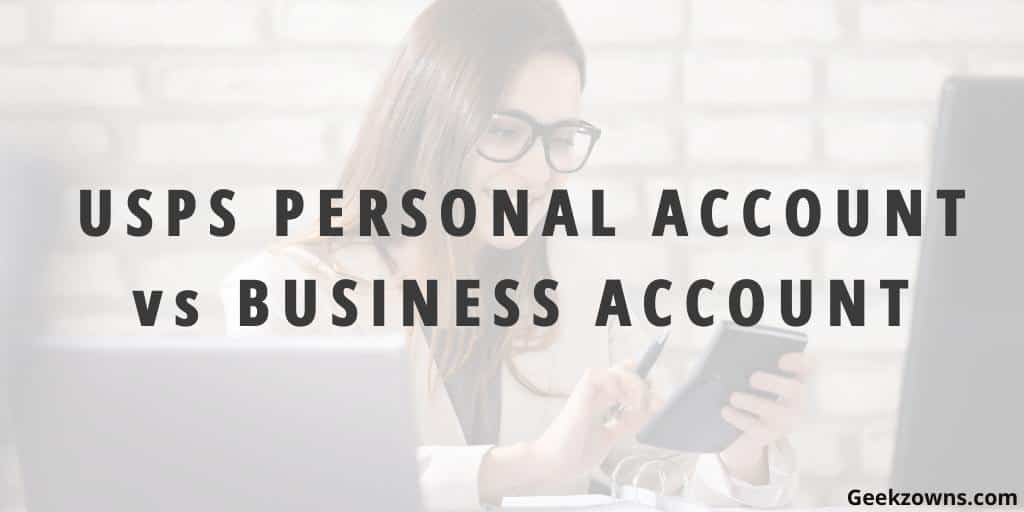 Difference between USPS personal account and USPS business account
There are two significant accounts created in USPS- Personal Account and the other one is a Business Account. 
A personal account is formed for home-delivery services like mailing a package, ordering stamps, tracking your packages, etc. 
But open a business account with USPS, then along with these services. You can receive additional perquisites like good return customizable options, customer loyalty towards your business, the cost involved in the mail can be negotiated, etc. 
It doesn't matter whether you are operating your business on a small or a large scale.
The comparison between a business account and a personal account in USPS can be made as follows:
Tracking Shipments
The first and foremost feature is "Tracking Shipments." You can quickly notify your customers about the shipments and update them every time the load advances using a business account. 
This is an outstanding feature as the customers know their products from when they order them to when necessary they receive them. 
The company can send quick notifications in the form of messages or an email.
PayPal
When PayPal service is offered in the business account, you can secure your account and keep all the information confidential.
This is possible with the extensive feature of tracking all the shipments ordered and delivered. Also, while using PayPal, the entire shipping process becomes easier for the business and the customers. 
Thus, you can pay only for the services you receive on PayPal and maintain confidentiality.
Mail Receiving
This feature of a business account (as the name suggests) leads to a customer's satisfaction and loyalty inclined towards the business.
This is because when the customer is even out of state or is not physically present at the current location mentioned in the details of the package can still receive the package at his present location (the customer needs to be made aware of his present site to the nearby post office to avoid any sort of confusion).
No Manual Work
Often there are chances of errors and omissions in manual paperwork. Also, the task seems monotonous and fatigue-causing.
But with the help of a business account, all the paperwork-related queries are sorted as the USPS business account lets you have automated filing of postage orders, tracking,  assembling custom forms, and automating all of the business tasks.
Label Creation in a Flash
It is generally seen that label printing consumes a lot of time, and sometimes most of the time of the business is dumped in it.
Here, the USPS Business Account offers the facility to print labels quickly. With Click-and-Ship, you can get your packages ready to deliver at a fast pace.
Pickup Service at the Customer's Door itself
Instead of getting the package delivered at the post office, the customers can avail the door-to-step service offered by the USPS business account.
If the customer has a busy schedule or cannot go to a post office, they can simply use this option. Also, using Priority Mail service indeed can help to get the delivery at an instant pace.
Also, it is essential to note that if the customer wishes to go for Priority Mail, using a business account and the Priority Mail service avails extra benefits.
Last but not least is " Each Door Direct Mail", which provides the business with an opportunity to level up their customer numbers.
This will boost the business as you can easily reach customers without even knowing their actual addresses. Isn't that amazing?
You can simply identify the business routes, prepare the packages and leave them off at the Every Door Direct Mail, and then they will begin with delivering that to the active addresses.
How to create a USPS Business Account?
First of all, open the site USPS.com and sign in if you have already made up your account; otherwise, you can create a new one and log in.
After this, check the personal or business account option and fill in your name, e-mail, phone, and address.
After that, you need to confirm whether the details you entered are correct or not, and if there is a mistake committed, you can rectify it at the exact moment because later you may have to face serious issues.
You can tick mark the conditions and USPS private policy and continue. That is where you have done with the process of your personal or business account creation.
USPS Business Account offers excellent software for reducing your productive time in routine tasks and instead allows you to use it to provide better services to the users.
Nowadays, it is a dire need to use the business account for innovative frameworks and customize your business operations, tracking facilities and filing of details, etc. 
Related Posts:
FAQs
You can request that your account be deleted by sending an email to [email protected]. You can use something relevant in the subject line like 'request for account deletion', and then the details can be included in the body of the email. The subject line should read "request for account deletion."
Yeah, that sounds like a common question. Many users get confused about the cost involved in creating a business account. There are absolutely no charges involved. There are minimal charges if you wish to avail of insurance facilities or postage or printing labels.
Final Thought
You can save time and money by better managing your operations, as you saw in the features mentioned above. All of these factors must be considered before opening a business account.
Dealing with more customers requires customization options, and that is the main priority of the USPS business account. It enables you to increase your customers' satisfaction with your business while adding on new features.
This is excellent service, and you can probably trust it. So this was all about USPS Personal Account Vs USPS Business Account Reddit. I hope you liked it and find it useful.
Meanwhile, share this post with your friends, and if you have any questions, we are ready to sort them out. You can comment on them below.
Originally posted 2022-07-24 10:00:00.