Are you awaiting delivery of an item, but the tracking information indicates that a "Clearance event" has occurred? If so, read the following details.
DHL is a part of the German logistics corporation Deutsche Post and offers courier, package delivery, and rapid mail services. Over 1.6 billion shipments are delivered annually by the business group. 
One of the world's most significant international courier services, DHL offers eCommerce businesses and consumers many options to keep track of the progress of their deliveries with DHL monitoring.
Although monitoring is frequently superficial, there are choices that eCommerce sellers should be aware of to accommodate their consumers better, mainly when delivering internationally.
This post covered every aspect of the DHL Clearance Event in detail. Want to learn further?
Keep reading this post.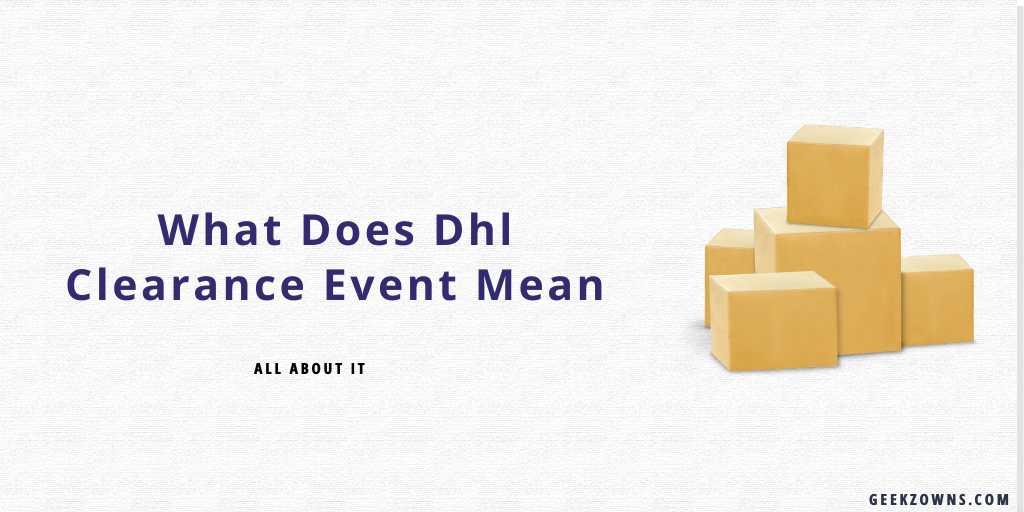 What is Clearance Event?
When goods or packages are kept at customs, the process is called a "clearing delay."  You can't send an item to your consumer if customs obstacles cause delays.
A parcel gets delayed at customs or the regions when there is a clearance delay. This is a horrible thing for businesses who require to send stuff for same-day delivery.
 A clearing event denotes the processing of an item with a DHL tracking number at the client, which might take anywhere from two to three days. 
A clearance event just indicates that customs is processing your cargo.
What Does Uncontrollable Clearance Delay Signify in the DHL System?
Uncontrollable Clearance Delay is a corresponding update related to a DHL "Clearance Event." However, a more complex problem cropped up throughout the customs clearance procedure if you get this status report.
A DHL agent will contact the client or shipper if more details are needed to inform.
Furthermore, you can always call DHL for more information about this clearing event and what has to be accomplished rather than waiting to be informed.
Tracking a shipment
After your DHL shipment arrives in the intended country, if you check its progress and find "Processed for clearance," "Shipment on hold," or "Customs status updated," you might have to wait a few hours for DHL to modify it to "Clearance processing complete." 
When there has been no progression after 24 hours, you can contact the support team to find out if there is anything you need to undertake.
DHL may email clients to inform them that a tax is due, they need to provide specific documentation, etc. So, you should monitor your email for notifications if you fall into any customs-process tracking issues. It should be noted that DHL marks a parcel as discarded if it is not cleared within a specific time. 
What is a DHL tracking number?
For domestic and international shipments, a package is identified by a tracking number, a set of numbers, and occasionally letters.
 You will get a confirmation email or message with your tracking number once you make a transaction from an online retailer or a courier. DHL's tracking numbers are available in a few distinct formats based on the service
How Can I Track a DHL Package?
DHL offers several tracking methods to keep track of the progress of domestic or international goods. By visiting the DHL website and providing your tracking number, you may accomplish this task most quickly and effectively.   
To notify your consumers about the shipment, you may configure your account to send personalized tracking information straight to them.
Do I Need a Tracking Number to Track a DHL Package?
Yes, you required a trading number to track your DHL package. The most straightforward approach to monitoring a parcel if you don't have a tracking number is to check with the shipper or retailer to see whether they have one. 
In certain situations, you may be able to use the supplied reference number by accessing it into the tracking system for the provider you ordered, such as DHL Express.
What should I do if customs confiscated my parcel?
Calling the Customs and border protection office where the items are being retained and asking them is the ideal approach to know why anything is being held back. 
Generally, Customs will provide you with a formal notification explaining why your cargo is being delayed, why it was stopped in the first place, and what you can accomplish concerning it. Licensed customs broker and former U.S. Customs officer.
What does it signify if a shipment is held up at customs?
Customs may hold up or even seize a delivery if the contents are restricted or illegal. Incomplete paperwork for customs clearance can occasionally lead to delays while customs work with the shipper to acquire the necessary data.
Faqs
Foreign interference and continuous transfers are two variables most likely to cause a delay in the security clearance procedure, which is highly reliant on many other circumstances. The accuracy of your security clearance request is the other problem.
Once the customs clearance procedure is finished, the item has passed through the receiving country's customs and is prepared to be transported to its final location.
The moment all customs are paid, your package clears inspection. Your preferred courier provider carries the cargo from customs to the final destination once customs clearance is complete. Occasionally shipments get held up at customs.
Conclusion
Shipping or obtaining cargo from another country does not often go as quickly as we want. The procedure of clearing customs is a necessary component of shipment delivery.
The practice of keeping products or packages at customs is referred to as a "clearing delay." Whether importing items over an international border or exporting things abroad, a clearance delay is the last thing you need.
You cannot deliver a product to your customer, which is a significant effect of delays brought on by customs limitations.
A simple notification that the shipment is undergoing clearance is what a DHL Clearance Event tracking update is.
A clearing event denotes the processing of an item with a DHL tracking number at the client, which might take anywhere from two to three days.
Uncontrollable Clearance Delay is a condition where the item must go through a thorough quality examination to ensure that it performs to the best of its ability.
Originally posted 2022-10-02 10:00:00.