The DoorDash acceptance rate is one of the more perplexing issues that Dashers have regarding the service.
DoorDash, like other delivery and food delivery businesses, keeps data on its drivers determined by consumer experience. These are determined by whether deliveries are made on time and the driver's rate.
You might be concerned if your acceptance rate affects a new DoorDash driver. Read this entire article to know more about the DoorDash acceptance rate.
So let's get started.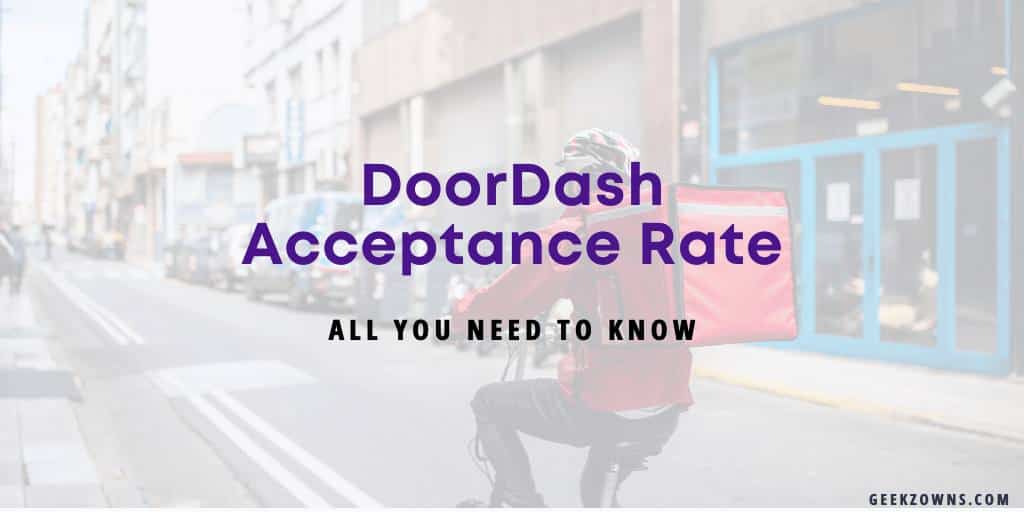 What is your acceptance rate on DoorDash?
The number of deliveries you've received out of the last 100 determines your DoorDash acceptance rate. Receiving more deliveries as they arrive will increase your acceptance rate. As it is a rolling average, your average acceptance rate will fluctuate. 
In the Dasher app, DoorDash analyzes various features, including your acceptance rate. The order quantity you processed out of the previous 100 delivery requests is your acceptance rate.
So, if your acceptance percentage is 50%, it means you've accepted 50 of your previous 100 delivery requests. It's essential to know that your acceptance rate is not the same as your completion rate. The amount of delivery orders you took and completed is referred to as the completion rate.
This indicates you accepted a delivery request but did not fulfill the order, whether you canceled it or anything else prevented you from doing so.
It's necessary to understand the difference between these two criteria. This is due to the fact that the completion rate is important. However, your DoorDash acceptance rate is ineffective.
What is a Good Acceptance Rate for DoorDash?
As per DoorDash, there is no minimum acceptance rate required to be operative as a dash driver. In some cases, DoorDash may delete customer ratings that are less than five stars from a driver's profile.
A consumer rating of at least 4.7; that's the only rate that goes slowly since some clients neglect to rate you after the transaction is completed in the app.
When deciding whether a review will remain on your customer rating, they will consider the following factors:
If you have to wait longer than 10 minutes in a restaurant,
Allegations concerning improper or missing ingredients, as it is the restaurants' obligation to add to the bag before sealing it.
If the dashers abandon the delivery, it'll be more than 15 minutes delayed before you receive the order.
When a delivery is delayed due to bad weather.
When the delivery is delayed due to a batch order of three or more items.
Disconnections that affect the entire system.
Circumstances that are difficult to provide.
No need to keep track of the elimination of these lesser ratings because they will be removed from your account. Your DoorDash ratings are based on what the business considers to be genuine feedback. 
What Does a Low DoorDash Acceptance Rate Mean?
There are no criteria for a minimum acceptance rate for a DoorDash delivery driver, so don't be hesitant to turn down orders you're not confident you can complete. If you are repeatedly late or have negative reviews, your account may be deactivated by DoorDash if your completion rate falls below 80% or 4.2 percent.
Take orders that you are confident you will be able to complete. Order completion guarantees that your completion percentage does not drop below-expected limits.
Is it Important for Drivers to Have a High Acceptance Rate on DoorDash?
One DoorDash acceptance rate doesn't at all make a difference. DoorDash's Dasher regulations make this extremely apparent as well. DoorDash specifically notes that there is no requirement for a minimum acceptance rate. 
This makes sense as well. Dashers are self-employed individuals who have the authority to accept or decline any delivery orders that come their way. 
If DoorDash doesn't do this, they run the chance of having too much influence on Dashers and having them classed as workers.
They don't want to do it, which is why there's no requirement for a specific acceptance rate, and Dashers are allowed to approve or refuse any delivery orders they get.
However, once you accept an order, you have virtually promised to execute it; DoorDash may make the completion rate crucial. 
The only time your acceptance rate matters are if you're attempting to achieve Top Dasher rank, in which case you must maintain excellent client ratings and a high completion rate (95 percent or higher).
Faqs:
The acceptance rate policy will have an impact on your potential to become a DoorDash Best Dasher, but it will have no impact on the number of deliveries you'll get. To check your current rating and how to improve it, go to the DoorDash site. The top dashers have strong metrics and a significant acceptance rate.
A remarkably low Acceptance Rate, according to DoorDash, might indicate misconduct or an attempt to scam the DoorDash platform's reward schemes.
An elite dasher accomplishes orders as quickly as feasible, interacts efficiently with companies and consumers when required, and always goes the additional mile when needed.
Receiving delivery chances that are provided to you on a regular basis will help you improve your acceptance rate. So the more orders you accept, the faster the orders you reject will be removed. To receive orders more quickly, make very sure you have the DoorDash driver app.
You will be missing out on extra cash if you do not take DoorDash orders. Many drivers rely only on DoorDash to make a career since it fits into their agenda. Accepting more orders will increase your driver compensation if you want to increase revenue.
Within the first few days of the month, Doordash sends you an email to let you know. They also send you an in-app message congratulating you on becoming the Top Dasher. You may also go to the account page in the Doordash driver app and look for a location that says "Top Dasher Benefit" if you are a Top Dasher.
Workers are not penalized if they have a poor DoorDash acceptance rate, but they will lose out on additional funds. If a driver's acceptance rate is poor, he or she will not get many offers. The only method to risk account termination is to not complete the orders you approve.
Conclusion
Your delivery prospects may not be harmed by a high DoorDash Acceptance Rating.
To be a professional driver and earn a decent livelihood, you must finish all orders, be on promptly, and have a kind demeanor.
As a DoorDash driver, there are chances and money to be gained if you put out the dedication and use your best customer service abilities to get a good customer service rating.
It is ultimately up to you to make the ultimate choice. If you want to be a Top Dasher, you need to keep your scores as high as possible. If you have diverse goals, though, you shouldn't be concerned about the acceptance rate.
So this was all about DoorDash Acceptance Rate; I hope you have got all your answers. Comment below if you have any questions, and share this post with your friends if you found it useful.
Originally posted 2022-08-02 11:00:00.