Do you frequently purchase on Amazon? If that's the case, you might be wondering if there's a simple way to share your Amazon shopping cart with a family member or don't know How To Share an Amazon Cart?
Perhaps you're looking for a product and want to seek a suggestion before buying? There is, however, a way to accomplish this.
You may easily share a cart with anyone else using a few plugins or extensions. I'll teach you how to share your Amazon cart with someone within a few minutes in this article. 
You can improve online purchasing much more effortlessly for yourself and those you care about by following these simple recommendations. 
So let's get started.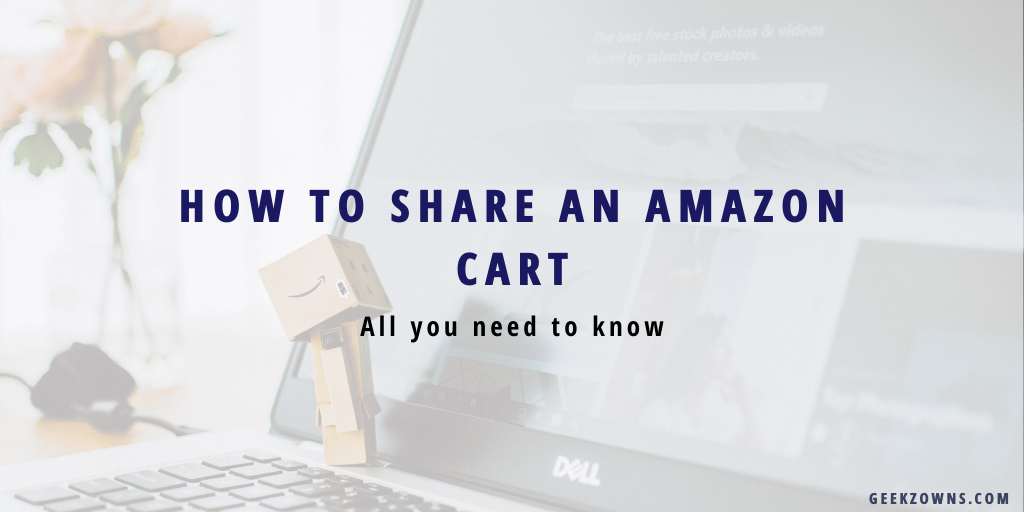 How Can You Share Your Amazon Cart?
It is not possible to share the Amazon cart directly, but with third-party addons such as Share-A-Cart or Shopping Cart, it is possible. You can create a unique ID and then share it with others using free plugins and extensions for your browser.
The best feature is that Share-A-Shopping works on Mozilla, Windows Edge, Chrome Browser, and Android, so sharing your Amazon cart only takes a few minutes.
Use the Google Play Store to get the Android version or the Shopping Cart Share extension for Chrome.
Open your Amazon account and log in.
Click on the shopping cart.
On the Amazon cart page, click "Share."
Share the Amazon cart link with your families and friends.
How Do I Share My Amazon Cart On An Android Or iPhone?
The same plugins you can use on your computer to share your Amazon shopping carts are also accessible on the app store or play store if you're wondering how to share an Amazon shopping cart on the phone.
On your smartphone, you ought to have no trouble downloading them. But if you want to send your cart and give the other person access to the shared cart, things work differently. 
These are the steps to follow if you want to share your Amazon cart on an iPhone or Android using the Amazon app.
Log in to the app using your Amazon account.
To view your shopping cart and check out, add items to it. The specifics are visible there.
A screen will appear where you can input the email id of the person you wish to share the cart with when you click "Transfer control of the cart."
Select Send.
How Long Can You Keep Items in Your Amazon Cart?
The items in your Amazon cart can be kept for about two weeks, but if you keep them for that long before buying them, some items may be out of stock if you forget about them for that long.
It is therefore important for you to avoid leaving items in your shopping cart too long if you are considering purchasing them, especially hot-selling items like earphones, which are currently very popular.
If you want to buy earphones or any other hot-selling item, you may have to wait for hours before they become available again; however, if you are buying everyday household items, you are unlikely to have this problem.
Amazon Wish List: How Do I Share It?
Keeping a wishlist is a fantastic way to keep track of items that you might be interested in purchasing in the future. You can share the link to a wishlist with your friends to keep them updated on what you would like to purchase. 
You can do it by following these steps:
To begin, open the Amazon app on your mobile device and sign in with your Amazon account.
Adding items to your wishlist is the second step in the process of creating your wishlist.
As a next step, click on the options in the left top corner of your screen and then click on Your Wishlist under it so you can access it.
Now that you have created your wishlist, you will be able to view the items you have added to it. 
On the right-top side of the screen, you will see three dots at the top of the screen. Click on those dots.
In the list that comes up, you can see the first place to invite people to the list in the list that pops up. Tap on it
As the final step, select view Only if you just want to show the file, or view and edit if you want others to be able to edit as well.
In the next step, you will select the copy link and share it with your friends and family members. 
FAQs: 
You may share the items of your Amazon cart with anyone using Share-A-Cart. Share-A-Cart is the quickest and most convenient way to share the items of your Amazon cart with others.
Using the Shopping Cart Share extension, you can effortlessly send products from your Amazon Wishlist to your Amazon cart. You won't have to do anything else because the extension will adequately recognize and link the list to your online shopping cart.
Separate Amazon shopping carts can be created for Amazon Fresh and Amazon shopping. You should check out both carts simultaneously if you have products in both. 
Products in your Amazon shopping cart can be kept for up to two weeks before purchasing. The maximum number of items that can be added to a shopping cart is that amount. A User Shopping Cart can accommodate up to 50 different products and up to 1000 various ones. 
Conclusion
I hope that you find this article on how to share an Amazon cart to be helpful. As we've seen, there aren't any direct ways of sharing your Amazon cart. However, there are a few alternative options.
You'll have to acquire one of the browser extensions or plugins accessible, including Shopping Cart Share or Share-A-Cart, to share your cart with Amazon directly. 
You've installed one of these addons; you can share your Amazon shopping with families and friends by selecting the addon and visiting your Amazon cart. 
To share your cart, you may establish a unique ID or share straight from the third-party addon.
Isn't that simple? You could now share your Amazon shopping cart with a friend and explore cooperatively.
That's all there is to it; I hope you enjoyed reading the post and found it useful. Comment below with any questions you have about the post, and if you liked it and found it useful, don't forget to share it.
Originally posted 2022-07-28 16:30:00.