Is Tracking Page Showing Shipment Received, Package Acceptance Pending, and are you wondering what you should do? Don't worry; read this post, and you'll find out all the information you need.
USPS is one of the popular postal service providers in the United States. It delivered hundreds of packages every day,
sometimes due to any work or reason, it shows package Acceptance Pending, and the receiver instantly gets worried about that, what it means and why it is showing, etc.
Is it the same with you? Don't panic. It's a normal situation that happens to a few people, so let's find out what's going on and decide what to do next.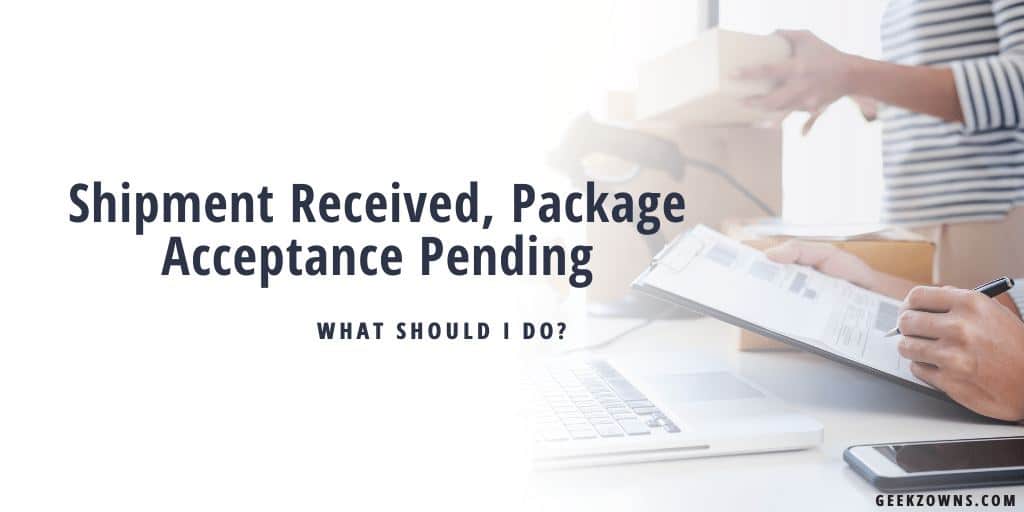 What does Shipment Received Package Acceptance Pending mean?
When the tracking status' Shipment Received, Package Acceptance Pending' shows, it means the post office has received an item to ship, but it doesn't arrive at the USPS sorting facility yet. once it will come, the tracking status will get updated.
Post staff occasionally receive bulk mail, such as fifty or hundreds of packages. To save time, they won't scan each package individually, and directly they send it to the sorting facility. This is the reason why tracking results show it's in the sorting facility.
When your mail item will successfully be get sorted, it will go to SCF, so once it reaches SCF, it will be automatically updated to the new tracking status. SCF stands for the sectional center facility.
What should I do?
This is a normal tracking status, and it shows to everyone when packages need to be sorted. So wait up to 48 hours. Sometimes it may take a little longer, especially during a festival.
Nonetheless, if the tracking status has not changed, Let USPS customer service know what's happening because they are the only option who can provide information about the mail.
It is possible that your package was stolen or damaged if it isn't updated within 15-17 days. In addition, it is possible that one of the staff members forgot to send the package.
Things to remember 
Follow these things. It might be helpful while sending or receiving any mail.
Do not send any breakable mail by the USPS; if it is important, try to pack well.
Try to always use USPS insurance.
Always fill full address and also fill in the residential address instead of any company address.
Track package from time to time.
How much time USPS will take to update the tracking status?
Usually, it gets updated within 24 hours but sometimes it may take longer. especially during any festive season, so wait 24 to 48 hours.
Do not hesitate to contact customer support if it does not get updated within 48 hours. This is something that only USPS customer support can do.
Related posts:
FAQs related to The Acceptance Of Your Package Is Pending.
Basically, it decides the time and route of any package, which has to get shipped via USPS. Any workers or staff doesn't handle it; it does by the automation machine, so it might take 20-48 hours to update the status. 
If your mail status would not get updates, then there might be any problem, contact the support team.
usually, it takes 12-24 hours to update the tracking status because USPS has to do many works like printing the label, sorting, moving, and many more. The package accepting time is 2-3 hours.
if it's a domestic package then it will get delivered within 3 to 5 days as usual however if it's international mail then it will take time.
Your package has been submitted to USPS for delivery to its destination, but USPS has not accepted it yet. I suggest you wait up to 24 hours if it is showing to you, and if it does not get updated, do not hesitate to contact the customer service department.
Final thought 
Ultimately, an "acceptance pending" notification in the delivery status means that the package has taken the first step towards being delivered to the person. Once the tracking system scans the package, the status will be updated.
Usually, these situations occur only during the festive season. So do not panic; wait 20-48 hours still; if it does not get updated. Don't hesitate to contact USPS customer service. They will surely help you with this.
If you've any questions or issues, let me know in the comment section and if you liked this post and found it useful, share it with your friends.
Originally posted 2022-09-13 00:00:00.