United Parcel Service, Inc. and FedEx Corp. are two major delivery service providers. However, the two firms' business structures and tactics are significantly unique.
Here, we compare the two businesses' strategies for dealing with various business difficulties, including online sales, logistics, express services, and ground delivery.
You may be wondering – which is superior in effectiveness, dependability, and cost? 
We compared these two businesses so you could pick the one that best matches your company.
So read this post to learn about the specific differences.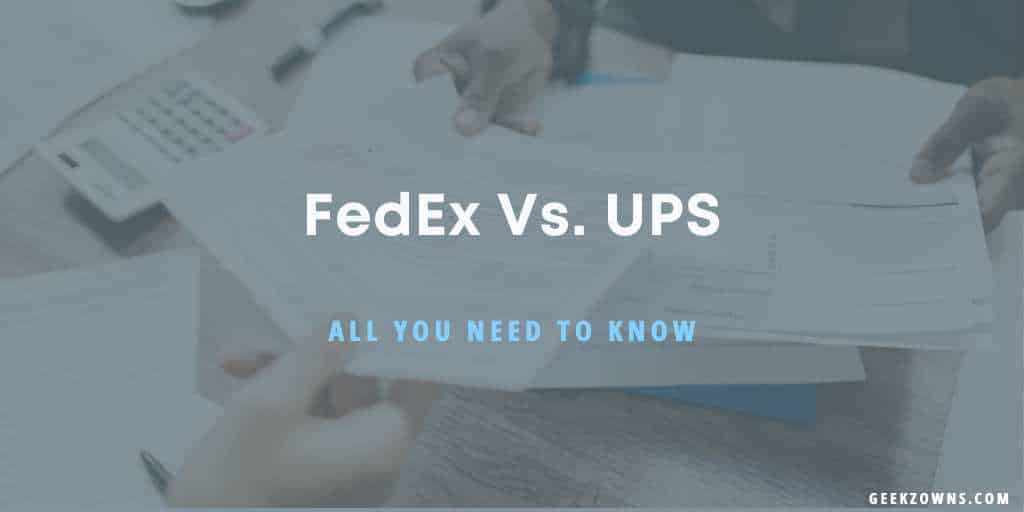 Brief Overview of  UPS and FedEx
FedEx is primarily famous for its international air express shipping, whereas UPS is well-known for its domestic ground delivery services.
Additionally, there are differences between the two businesses' methods for providing customer service, performance in the world of e-commerce, and distinctive business models for each.
The two businesses have become well-known for their rapid package delivery services. Each company offers additional delivery options, which causes their work to appear overlaid.
UPS is a primary carrier in the air transport industry, and FedEx has a FedEx Ground-like package delivery service. FedEx's air express activities and UPS's ground package activities are each company's leading sources of income.
The two primary international courier delivery services are FedEx and UPS. FedEx has a net income of approximately $2 billion on revenues of $42 billion, whereas UPS has a more significant net income of about $3 billion on revenues of $53 billion. 
The headquarters of both businesses are in the United States, but UPS dominates the European market and generates a more considerable portion of its sales there. UPS's operation of land vehicles is more significant than FedEx's aircraft operations. 
Through a partnership known as the SmartPost Service, FedEx and the US Postal Service can pick up, handle, and fly to the destination of e-commerce items while leaving the recipient's ultimate delivery to USPS.
Which is less expensive, UPS or FedEx?
Let's figure out which one of the two businesses is less expensive.
FedEx and UPS offer specific-time deliveries at about the exact cost. FedEx charges less than UPS for delivering inside the same state, though. FedEx does not provide a ground service cost; hence it is thought that UPS offers a lower ground service price.
The costs provided by both businesses for small ranges are also reasonably equivalent. The variance is frequently less than a dollar. The ideal course of action is to select the delivery speed your consumer desires.
In comparison to UPS, FedEx provides better services and lower shipping.
FedEx shipping offers less expensive charges for shipping a small delivery inside the US if you are spending marketing prices. 
Everyone is interested in finding out how much extra it would charge to send a small box across the country from one remote setting to another because express shippers are prone to impose extra fees for delivery in outlying areas. 
Unexpectedly, rates aren't that significantly more costly. Compared to shipping to a big metropolis, there is a noticeable difference in the availability of services in rural places. 
In this instance, UPS provided one better function than FedEx.
Which is better, UPS or FedEx?
Evaluating the two businesses, you can now observe how close their delivery times, service offerings, dependability, and costs are. In contrast, FedEx comes out on top when we compare the costs. FedEx is less expensive, even if there isn't much variation in the prices.
UPS will probably offer you a cheaper rate if you send domestic packages weighing less than two pounds.
Selecting one of these two businesses is difficult. The final decision will depend entirely on the support given along your preferred location or package time.
Between FedEx and UPS, who is more stable and reliable?
Quality of service is often an extra-cost service element. However, the majority, if not all, of UPS's and FedEx's services include package tracking, insurance, and delivery assurances. 
FedEx could be a better option for exporting internationally as they specialize in international air freight. UPS specializes in domestic shipping and may become more stable within the US.
FedEx or UPS: Which is better for substantial international packages?
UPS concentrates on local transportation, whereas FedEx specializes in international air freight. For international shipments, both carriers impose a weight restriction of 150 pounds. 
Both couriers will charge you more if your weight is higher. If you want to check the price for your particular cargo size, use a rate calculator.
Faqs
Since business deliveries are one of their specializations, FedEx delivers the lowest prices for B2B shipments. Additionally, they provide the most affordable and dependable service for mailing contracts and other legal papers in FedEx envelopes. UPS is the most excellent option for sending out higher-value products.
When comparing FedEx and UPS Ground services, UPS is frequently quicker. One of the potential causes of this is that UPS is better equipped to operate and serve several places faster than FedEx since it has a more extensive fleet of vehicles in the USA.
FedEx ships billions of parcels daily because it is well-known, and many people utilize its shipping service. Due to this traffic, there is a significant increase in the likelihood that consumers may experience a delay.
Conclusion
UPS and FedEx are two of the largest express package delivery providers in the shipping sector.
You may choose the most appropriate one based solely on your company's requirements. UPS provides less expensive shipping options, while FedEx delivers your items more quickly and with time-definite facilities.
It is simple to believe that FedEx and UPS are similar since they are similar. However, UPS focuses mainly on local delivery, whereas FedEx concentrates primarily on international goods. Before making a choice, you must comprehend what you require.
Originally posted 2022-10-09 16:30:00.