A PO box can be used for more than just receiving mail. You may be wondering –  How much does a PO box cost, and how can I obtain one? A post office box, usually referred to as a postal box or simply a P.O. box, is a locked, individually addressable box situated on a post office's property. 
In general, people and companies rent post office boxes from the post office on a schedule varying from monthly to yearly, and the rent price varies based on the size of the box.
Here is all the information you need about post office box prices. To continue reading this entire article.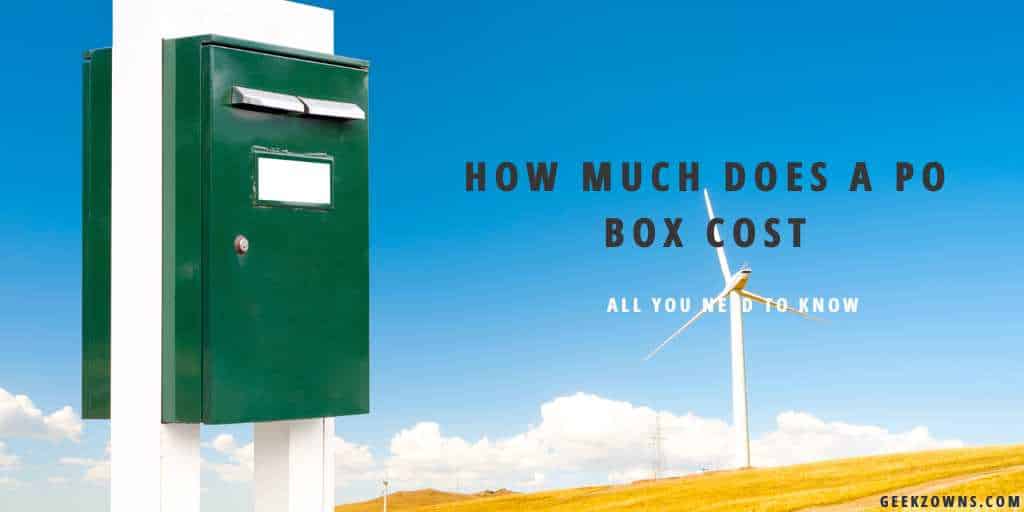 How Much Does A USPS PO Box Cost?
The location, size, and length of the payment term all affect the cost of a USPS PO box. The pricing ranges for the tiniest and biggest PO boxes are $13-$44 for three months and $21-$75 for six months, respectively. The price ranges for the most oversized box are $64-$360 for three months and $109-$625 for six months. 
Many folks worry that the USPS may run out of business as the world becomes more digital. The Postal Service still plays a significant role in American culture, serving as a vital channel between companies and customers. 
An easy way to get mail for many individuals is through a PO box. Although purchasing a PO box may seem like a small price, the simplicity and sense of security it offers make it completely valuable spending.
What Advantages Are There to Renting a PO Box?
The USPS PO box service is advantageous for several reasons. Let's go through its benefits:
Privacy
While operating a home-based company, you have the choice not to disclose your mailing address. You'll be able to continue receiving mail while concealing your actual address from the general public. Additionally, it separates your correspondence from your professional mail.
Quickness
Your PO box should get your mail more quickly because it won't have to travel too far. You won't be waiting for shipment to your house and might receive your mail sooner.
Confidentiality
If your mail has already vanished, the protection provided by a PO box will stop this from happening again. Instead of leaving your packages outside your house all day, keeping them elsewhere safe until you can pick them up may be possible. Instead of an open mailbox at your home, it is a secure mailbox.
Accessibility
Your PO box can be available 24/7 based on your chosen Post Office address. Some locations could have later hours or let you pick up your mail throughout Post Office business hours.
Defining Features for P.O. Box Pricing
Duration of the rent
You will discover the most excellent price strategy and reductions in the more extended period you pick, like with most subscription fee options.
You would pay more to rent a box for three months than six or twelve. Even if it offers more excellent value for the money, choosing a year-long term is pointless if you are unsure how long you will use the box.
Constantly extending the P.O. box for short rental terms is not economical. On the other hand, if you rent for a year, you frequently get a free month.
Choosing the most prolonged leasing period to meet your demands is the key to getting excellent pricing on a P.O. Box.
The P.O. Box's dimensions
P.O. boxes come in five sizes often at post offices. There won't be an entire selection of size options at every store, though. Demand or lack of installation are the likely causes of this. 
It is ideal to use an extra small PO box, which measures approximately 3″ by 5.5″ to store around 10-15 letters or two rolled-up journals.
A small PO box is 5″ by 5.5″ in size, slightly larger than an extra small box, and can contain up to five rolled magazines in addition to 15 letters. The dimensions of a medium PO box are 5.5″ x 11," and they may hold bulkier things.
A big PO box measures 10.5″x11″ and is perfect for companies or people who get a lot of mail. Extra-large PO boxes are the final and most significant option, and they are ideal if you wish to receive many or huge packages by regular mail.
Extra-large PO boxes measure 12″ x 22.5″ and provide space for mail and other items.
Location
For PO box locations, the post office offers two classifications: "Market-Dominant" and "Competitive." Additionally, "Competitive" post office locations frequently cost more money.
However, these PO boxes are renowned for providing extra services, including extended access hours and e-mail alerts.
Obtaining a Post Office Box Online
Nowadays, you can pretty much accomplish everything online. Shop, mingle, and even acquire a PO box are all options.
Yes, you read it correctly. You can now completely register a PO box online through USPS. Stop going to the post office and standing in line for hours.
From the convenience of your home, you may now choose the location and size of your PO box. It will ask you to register the box if the place you are seeing has the dimension of the PO box you choose in stock.
If a waitlist notice appears, you may try another place or PO box dimension to check if there is anything more readily accessible. But if you're keen on this specific spot/box, you may fill out the entire application and get added to the queue.
After choosing the payment terms and completing PS Form 1093 online, the process continues if your box is accessible for reserve. Finally, to save it, just click "Submit"!
After submitting your papers, you'll have 30 days to verify your identification and pick up the keys at the postal service.
Obtaining a Postal Box in Person
You can choose between obtaining a PO box in person or online through USPS. Just print the 1093 form from the USPS official site, complete it, and bring it to your nearest post office with two pieces of recognized identification if you decide to do it in person.
Faqs
The Postal Service provides free post office (PO) box service for clients who do not receive any carrier delivery. Customers fill out an application and provide identification to a Postal Service employee to sign up for the free PO box service.
Receiving parcels and postal mail that aren't addressed to your home or business is also made secure.
If possible, use your Post Office's street address in addition to your PO Box number as your postal address by using a street address.
Conclusion
The cost of getting a PO box from USPS depends on the PO box's location, dimensions, and length of rental, as well as other factors. Prices for PO boxes often increase as their size and location become more popular, but they decrease if you lease for a prolonged timeframe.
By completing PS Form 1093, you can request to rent a PO box either in person or online.
When you register, you must also present two legal pieces of identification to the post office to prove your identity. Hopefully, you liked this article, which answers all your concerns.
Originally posted 2022-10-07 16:30:00.