There is no doubt that DoorDash is one of the biggest websites for ordering and delivering meals. With over 56 percent of the market share in the United States, DoorDash has the largest market share among all of the online delivery companies.
However, You might have an unfavorable review with Doordash, or you may simply no longer want to buy food online. It's a simple process that takes only a few minutes to finish and delete the account. 
This post will guide you through how to remove your DoorDash account in detail, and you can discover how to do so by following the instructions below.
So let's get started.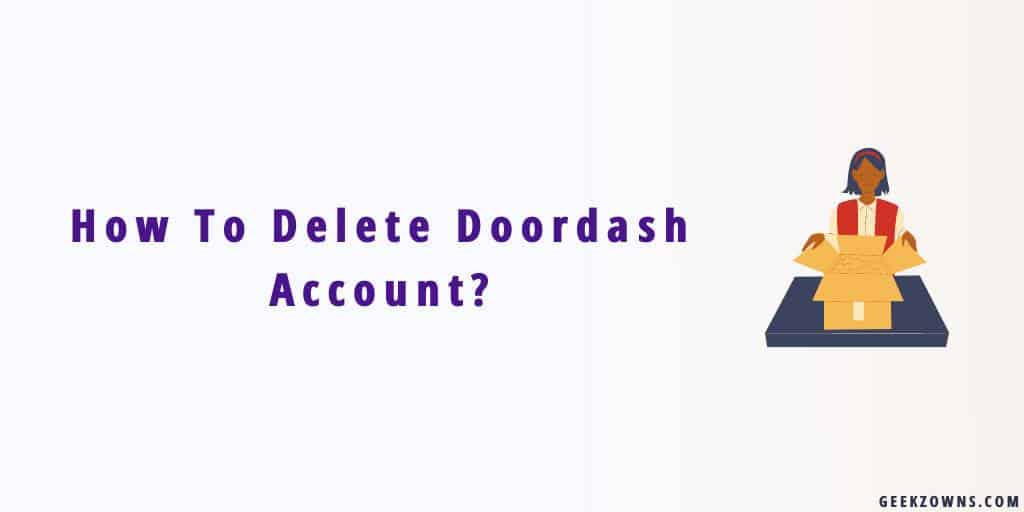 How To Delete Your Existing Doordash Account
If you have decided that you would like to deactivate your DoorDash account, you can do so within a few tabs by selecting a few items from the menu. Upon deactivating your DoorDash account, you will no longer be able to log into both your DoorDash app and website.
There is, however, a possibility to reactivate the account if in the future you decide to start using DoorDash once again and if, for some reason, you decide that you want to do so.
This article will provide you with step-by-step instructions on how to get rid of your food delivery account.
First and foremost, why would a DoorDash account need to be deleted?
DoorDash Account Deletion Reasons:
There are many reasons why deleting your DoorDash account may suddenly become a necessity for you.
There is a possibility that you won't need the DoorDash app in the future just because you find a new favorite food delivery service.
Alternatively, you may wish to unsubscribe from DoorDash or delete your account as a result of your personal decision to cook more and order fewer meals.
Disappointment from Dasher: 
One of the reasons why you may want to delete a DoorDash account is if you are unhappy with the service of your Dasher. Dashers are DoorDash delivery drivers who are responsible for picking up and dropping off your food to you. 
If a Dasher fails to meet any of the quality expectations that you have previously set, it is important that you contact DoorDash right away so that they will be able to address your concerns during this time.
Wrong Account Registration: 
One of the reasons why you may want to delete your existing Doordash account is if you register for your Dasher account under the wrong email address or the incorrect phone number. Be sure to check your registration details carefully.
Important Data: 
Another reason can be you're worried about the data you have given to Doordash. Therefore you wish to delete your Doordash account. Be sure to check the data you have given before deleting the dasher account.
No matter what the reason may be, you will be able to delete and get rid of your DoorDash account in a snap.
Here is how you can do it.
How To Delete Doordash Account?
It's significant to note that you delete your Doordash account through the app and their official website.
Log in to the DoorDash website using your DoorDash.
The navigation symbol with three dashes can be found on the home page's top-left corner. To access the menu settings, select it.
When the dialogue slide displays, you'll notice that "accounts" is one of the options available. Click on "Account."
 Choose "Manage Account" from the drop-down menu. You could also download or archive your information from your DoorDash account, like your private details and receipts, before canceling your account.
Select "Delete Account" from the drop-down menu.
After clicking this, you will be taken to a new page where you will be asked to enter the confirmation code provided to your mobile phone or email address. 
Enter the confirmation code emailed to you or sent to your device. After that, choose "Verify."
Click the "Continue" button.
Choose "Delete Account" from the drop-down menu. Your profile will be deactivated,d and you will be signed out of DoorDash.
How to Contact Customer Service to Delete Your Doordash Account?
Visit the "help" section of the website, doordash.com. It's the only option to request that your DashPass subscription be deactivated.
You will be asked to undergo a form that requests personal details, email address, phone number, and other relevant data. 
After you've double-checked all of your information and made sure it's accurate, send your application and wait for a response from customer service. 
After you've filled out the details, you'll see an explanation tab where you can explain why you want to cancel your DashPass subscription.
How to Cancel Your DoorDash Subscription from Your Phone?
To proceed, open the DoorDash app on your mobile.
Then choose "Account" from the drop-down menu.
Select "Manage DashPass" from the drop-down option.
Then click on the "End Subscription."
To properly cancel your subscription, follow the following procedures.
What happens if you cancel your DoorDash subscription?
You will not be charged for the following subscription month if you unsubscribe from DashPass. However, you must unsubscribe at least one day prior to your subscription's next set payment date.
Your DashPass credentials will be active until the end of the current billing period if you quit your subscription. Your access will be instantly canceled if you stop your membership during the trial period.
FAQs:
It is impossible to delete a DoorDash profile by contacting customer service. However, with the help of a customer support representative, you may deactivate your DoorDash account and can always revive your DashPass membership by canceling it.
You can stop using DoorDash at basically any moment. If you want to discontinue your Dasher account, there's a contact number you can reach for account-related questions. Doordash support will be sad to see you go but will still guide you through all the steps you need to do.
If you submit a successful appeal, your DoorDash deactivation will be permanent. The procedure occurs unexpectedly and without warning. You won't be able to appeal every deactivation, but the e – mail will notify you whether you can. You will then be given directions on how to initiate the procedure.
Conclusion
Although Doordash has exclusivity in the food delivery market, it is no mystery that it is losing consumers regularly.
You will not be able to use the DoorDash meal delivery app if you delete your DoorDash account.
The DoorDash mobile app, on the other hand, allows you to erase your credit card information, cancel your membership, and choose another payment method.
The only way to remove your DoorDash account is to go to the official DoorDash website and follow the steps outlined in this post.
To summarize, you can effortlessly deactivate your DoorDash account without contacting customer service. You can, on the other hand, request that your account be deactivated by submitting a request to the contact center.
So this was all about How To Delete Doordash Account; I hope you like this post. If you have any questions about it, just comment here. I'll try to solve your problem as much as possible.
If you liked the post, please share it with your friends on your social media websites. 
Originally posted 2022-08-05 10:00:00.