Waiting eagerly for your package and got to know the package is delivered but it did not arrive or Amazon Package Delivered To Wrong House? No worries, here you'll get to know everything about it.
A leading e-commerce site, Amazon, is where people love to shop online. To shop with Amazon, we have to rely on their delivery service.
There have been instances where customers have found that their package was sent to the wrong recipient or the wrong house, and they are not sure what to do. Read on for how you can get your package back.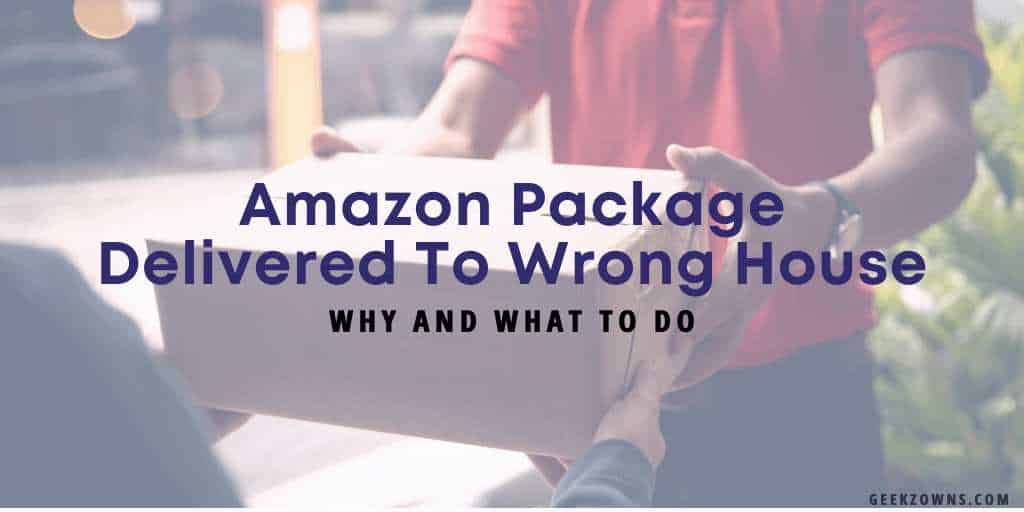 Amazon Package Delivered To Wrong House
In the event Amazon packages are sent to the wrong address, contact amazon customer support right away. A refund will be made, or an item will be replaced if the delivery service caused the problem. The customer may experience a different outcome If they accidentally had chosen the wrong address.
However, there are several reasons why the package may have been delivered to another address.
There is a possibility that the delivery driver did not read the details and address on the invoice. Accidents happen, and it is inevitable that some things are going to be sent to an incorrect place.
A customer may have entered the wrong address when filling out their shipping details. It can be quite tricky because there are several ways that you can enter an address, including inputting an apartment number and street.
If the address does not match up with the information you've entered, then the package may have been shipped to the incorrect place.
On the other hand, delivery errors are often a result of couriers misreading the label on the Amazon package. However, it is strongly recommended that customers check their address before placing an order to ensure it is correct.
Steps To Take If Your Package Was Delivered To the Wrong House:
Receiving a package at the wrong address is rare; it happens occasionally. The reason behind this is usually an error on the seller's part, but it's good to ensure that the shipping information is entered correctly.
However, the package usually gets returned to the sender if you enter incorrect information. Sellers sometimes contact you about delayed orders when this happens.
However, it happens due to their end, and it gets delivered; the only thing to do is get in touch with the Amazon customer representative.
Despite that, there are a few things you should do before reporting the package as lost to make sure it is lost:
Check your order's shipping address
Ask your neighbors if they have accepted the package on your behalf
Check the delivery location carefully
Check there is any notice of attempted delivery or not
Wait 48 hours to see if the package arrives
After all of those steps, if you find that the package is really lost and did not reach your house, file a report at Amazon.com.
Lost packages can take several weeks before they are actually marked as lost on the Amazon.com website. If it has been delayed for several days or more, then contact the customer service of Amazon to start an investigation and get your package back to you as soon as possible.
Do Amazon Refund If the Package Sent to the Wrong Address?
If your package is accidentally sent to the wrong address, it will be returned to the seller. Once the seller has received the package, they will send a replacement or refund your order.
However, this may change depending on what was purchased, and it may be up to the seller's discretion.
When you contact amazon customer support, they will be able to inform you if they are able to provide a refund or a replacement. 
Customers can request a refund by following these steps:
Go to Your Orders by logging into your Amazon account.
Click on the order that was delivered to the wrong address and select the "Problem with your order" option.
Pick "Problem with your order" and then choose "Request refund." Enter "wrong address" as a reason for the refund.
Submit the refund request and check the refund status frequently for updates.
Although you can do the same with Amazon customer support, you just have to tell them about it; the rest will be handled by then.
Customers might also be able to request that the order of the items be replaced with a new order, although this may vary depending on the customer service representative.
You should be aware that Amazon may not offer a refund for delivery errors caused by incorrect address information entered by the customer. However, there may be exceptions to this rule. 
Who Is Responsible If A Package Is Delivered To The Wrong Address:
Typically, the customer is responsible for entering the incorrect shipping address. Amazon sellers are not responsible for packages that were sent to the wrong address unless the seller made an error with the shipping address. 
However, if you can show that you entered the correct information, then you may be able to get a refund. If your package gets sent to an incorrect address due to a seller error, they should offer a replacement or refund your money.
However, there can be many reasons for package delivery to fail, and the seller is not always to blame. Still, they are responsible for ensuring the package is delivered on time and correctly. 
Buyers can rely on good sellers to do everything as they make sure customers' packages arrive where they're supposed to. Mistakes can, however, occur. 
It is best for buyers to make sure they have all their bases covered on their end and to reach out to Amazon if there are any issues.
Can I Keep Amazon Packages Sent to my Address by Mistake:
If you received a package that was not intended for you, let the customer support team know about it as soon as possible as there can be any essential thing that was important for the original recipient.
The situation can be rectified by contacting Amazon customer service or using Amazon's instant message feature to notify them of the mistaken delivery.
How Do I Return a Package to Amazon I Didn't Order:
If you received a mail that was not ordered by you and want to return that package, you could contact amazon customer support by calling them and giving the information such as name, tracking number, etc.
In the case of an incorrect address, Amazon will have a delivery driver pick up and deliver the package to the correct address if they are able to track down the original order.
Nevertheless, customers are allowed to simply keep the package if Amazon cannot resolve the situation. Furthermore, if the customer's telephone number is included in the package, the customer may also call the number and arrange for a private conversation.
However, Amazon recommends that users first contact them since Amazon respects the privacy of its customers. If Amazon isn't able to solve the problem, contact them directly.
Related:
When Does Amazon Start Delivering and Stop
How to Find Out Who Sent You an Amazon Package
Can I Return An Item To Amazon If I Opened It – Explained
FAQs:
Amazon has extensive fulfillment centers located all throughout the United States. Orders are typically shipped one business day after the order is placed. However, orders might be delayed due to certain reasons such as weather delays, technical issues, etc. 
Yes, you can return items that are shipped and sold by Amazon. The item must be returned in new condition and in the original packaging. Customers can return items via their Amazon shipping box or any other package made from corrugated materials.
If you receive a package that wasn't intended for your address and does not belong to you, contact Amazon customer service and inform them about the situation.
In this case, you can contact customer support to make changes or cancel the order to reorder that. This way you'll be able to deliver the package to the right place.
Contact Amazon customer support. A refund will be made, or you may receive a new item in place of the product you received. It is important to note that a refund can be given, even if the delivery went to the right address.
However, it is highly recommended that customers check their address before placing an order.
Contact Amazon Customer Service quite quickly. The best way to do this is to call the customer support team using the number posted on their website. There is an option for you to chat with a representative via the website as well.
If there is an error, you will be given the option of either returning your order or receiving a refund.
Conclusion:
So if your Amazon package is delivered to the wrong address, Amazon only offers a refund for package delivery. However, if the seller made an error in the shipment address, they will offer you a replacement or refund your money, and they may not if it was delivered due to your mistake.
If you have any queries regarding Amazon Package Delivered To Wrong House, comment down below, and don't forget to share it with your friends if you find it useful.
Originally posted 2022-08-05 13:18:24.