Are you wondering what inbound Out of Customs means and what it is? If so, you're in the right place. Many of you may haven't heard about it before, and others may have known about it beforehand but may not have understood what it is and what it means.
Through this post, you'll get to know What Does Inbound Out Of Customs Mean? and when your mail will be delivered to you?.
Inbound Out Of Customs indicates that your package or mail has been released from customs and will soon be delivered to you.
If you are a sender and you see Outbound, it means the package passed through customs and now is on its way to its destination.
Now let's get to know how customs work.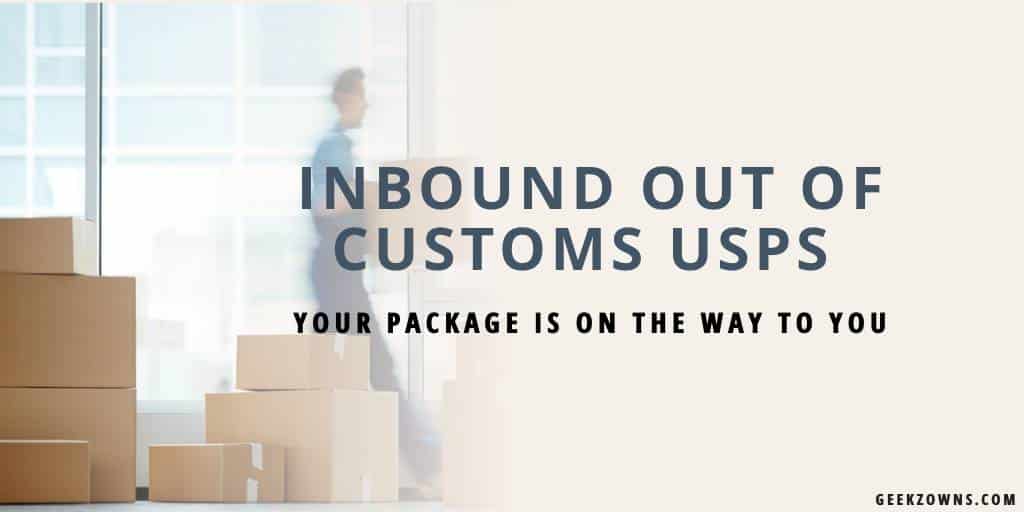 How do customs work?
Once upon a time, I'm sure it came to your mind how customs work, what happens in custom offices, and how they process packages, but don't worry, you'll get to know more about this in the following article.
Basically, it's an authority who will be in every country. Every package shipped to any international country, and any package that is coming from out of the country, Mail/package goes through the customs office.
The Customs Department is a governmental authority that works in every country. Any package shipped to any international location or one originating from outside of the country must have to go through the Customs Department.
According to Google, the government department that collects taxes on goods bought and sold and or goods brought into the country and that checks what is brought in.
There is a place at an airport, where government officials check your luggage to make sure you're not bringing any goods into the country illegally.
Custom Procedure:
There are reports that say over 650 million pieces of mail/packages arrive in customs each year, coming from foreign countries in the United States. It's a huge number, so you need to know the steps so you can receive your package quickly.
Almost all international mail proceeds and is accepted in the US by one of its five International Service Centers (ISC), which are located in different locations, i.e., New York, Los Angeles, San Francisco, Chicago, and Miami.
Let's start from here…
Packages that come from outside the United States are picked up at the airport by the ground staff known as ground handlers, who are either airport employees of the airline or personal agents hired by the airline itself.
Now your package is being processed by Customs officials, After that, it will be forwarded to USPS.
What do ground handlers do?
They have to unload the receptacles containing packages/mails from inside the airplane; after that, the ground staff takes it to the ISC center, where they proceed with the work. May you think why they do this, but these steps are important, and it will be done in high security, and it takes some time.
The majority of postal providers have agreements with the ground handlers and with the airlines. This allows them to deliver parcels/mail quickly.
Document procedure
USPS employees must be present there to verify and monitor the status of the packages. They achieve that by completing the reports, commonly known as ramp reports. With them, they can easily know details about the package, such as from where it came from,
which flight it arrived in, what is in the package, etc.
Final verification
In the final stage of verification, all packages have to successfully pass through the x-ray machine, which checks the mail/package to see if it contains anything harmful; if the machine detects anything suspicious, the package will not be permitted to enter the country.
The customs officials can only review the package by using the machine with technical aspects, they cannot open it and keep the thing confidential. All of these procedures will be done in a secured place with full security.
After that, it will get approval and handed over to the USPS team so that they can move the package forward, and if they find any issues in the ramp report, then it will take more time to verify the packaging.
Related posts:
FAQs
Final thought
Every package that comes from outside the country has to pass through customs officials. After that, it will be delivered to you. These procedures are important and to be done to ensure the safety of the package.
I believe this article will help you to understand What Does Inbound Out Of Customs Mean, how the process works, and What Does Customs Do.
If you have any doubt, please leave them in the comments section, and if it has helped you, share it with your friends on social media.