Your USPS Tracking Not Updating? Want to know why and How to solve it? Read this post till the end, You'll find all the information here.
A tracking number is a unique number, which USPS provides to each package when a package is shipped with them; tracking number helps users to keep track of that package to know where is the package, what's the status, and when it comes, etc.
Sometimes USPS says Your Item Is Currently In Transit To The Destination, what's the all tracking status means, and the main topic USPS Tracking Number Not Updating, so don't worry about it, you will find here all, what does it mean, what to do and how to solve it.
The tracking system always works perfectly, but sometimes it shows USPS Not Updating Tracking because of some issues happening in the backend, so let's know all the info with this post.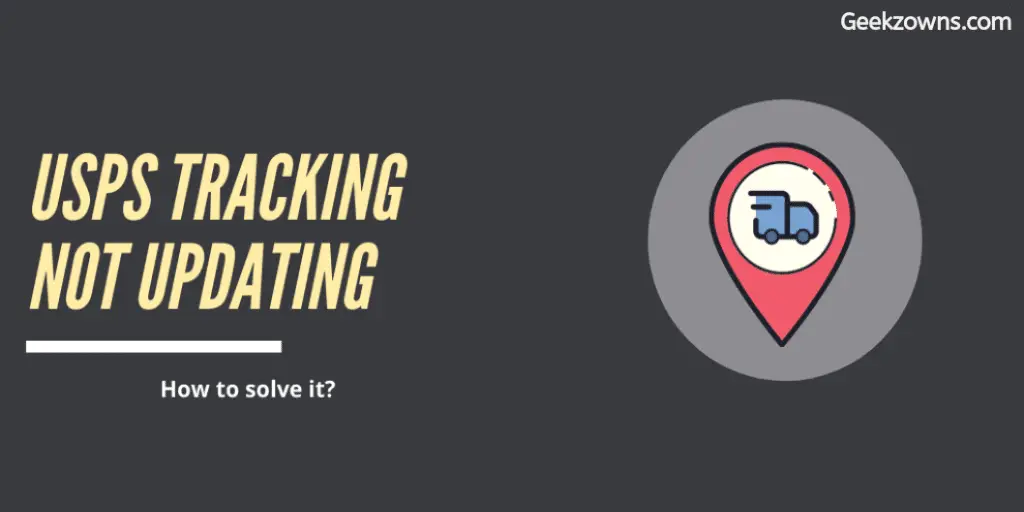 USPS Tracking Not Updating
There are multiple reasons behind USPS Tracking Not Updating, and many people face this issue, so don't worry, all problems will fix very soon, and you will see your package tracking works correctly.
However, check tracking number that you've entered is correct or not, and I'm also sharing some places where you can find tracking id then match with old id.
Below are some places where you can get your tracking details and other information.
Check the email, which you get after shipping of your package.
Check the post office receipt.
Find your tracking id on the sales receipt, which you got after purchasing insurance for that package.
You can also check this post, how to find a lost tracking number to get the correct tracking id, and the other option is to wait for a while to get your tracking status back.
The reason behind USPS Tracking Number Not Updating
There are multiple reasons behind tracking not updating, so let's discuss them one by one.
Package Barcode not scanned
One of the reasons behind the delivery status not updated is the package barcode not scanned.
When any package shipped with USPS, at the top of the box, they attach a barcode that has been scanned by every warehouse to the warehouse; this process is done several times until that reaches delivery destination, which updates the status of the shipment while tracking.
Sometimes they forgot to scan that package, so tracking status showed this message.
Or,
On any occasion or during any sale, they receive a huge no of packages to be delivered; in that time, there is no possibility to scan every package, so they directly send that package for delivery.
Weather
Weather is one of the reasons that causes a delay in updating details. During snowfall, thunderstorms or rain cannot get package scan and delivered on time because it's natural; It comes at any time that may create traffic jams or other issues.
Broken or Unscannable Barcode
Sometimes, due to unknown reasons, barcodes get damaged then it's not possible to scan that package, and if it works but does not give accurate information, so that might be one reason for not updating tracking info.
Unknown reason
It can be delayed or not updating due to any issues, or that is part of the carrier.
USPS Tracking Not Updating: What Does That Mean?
If you did not get any updates for more than a week, don't worry. There is a higher possibility that your shipment is on its way to the delivery location, and something will happen whereby any issue in updating tracking. It might come to you on time, or it can take some time.
What should I do when my USPS tracking doesn't update?
Nothing, just wait someday until that package is delivered to you; if that package does not arrive on time, don't hesitate to call customer support and say about all the things and ask to give tracking details and share your tracking id too,
They will give you all the details immediately, or they will contact you in a while [ may they take 24-48 hours] with accurate information about your shipment. I hope they will help you with this.
There is a high possibility they will give you accurate details.
How to track the package when USPS Tracking Number Not Updating
It happens with many people; on any occasion or during any sale, they receive a huge number of packages, so for quick delivery, they won't scan the barcode and send that package for delivery. Or,
When they receive a high no of shipments to move other warehouses quickly, they often skip scanning packages; that's one reason behind showing Tracking Is Not Updating.
Therefore, don't worry about that they will update the tracking status after all shipments are delivered.
Related Post:
How Long Does It Take For Usps Tracking To Update?
They usually take around 24 hours to update a shipment status; if they do not update, there might be some issue, so it may take longer.
I've Received My Packages, But Still, Usps Tracking Is Not Updating; why?
During occasions or sale, USPS receives huge packages; thereby, they have handling issues, so they send the package to its destination without scanning it.
What Happens If Usps Tracking Does Not Update For Days?
Just wait for a couple of days; if they do not update tracking details, contact customer support and ask them about that package and tracking.
Should I Be Worried If Usps Tracking Hasn't Updated In 3 Days?
No, just wait. They will update that package's status within 24-48 hours or till the delivered date; if you want to know accurate details, then contact customer support.
Conclusion
I hope this blog post helps you to know all the reasons behind USPS Tracking Not Updating, so don't worry, your package will come to you on time.
If you want to confirm or need any help regarding your package, contact USPS customer support; they will surely help you.