Is your USPS Tracking Not Updating? Want to know why and How to solve it? Read this post till the end to know all about why the USPS tracking number not working and how it can be solved.
A tracking number is a unique number, that USPS provides to each package when a package is shipped with them; a tracking number helps users to keep track of that package to know where is the package, what's status, when will come, etc.
But sometimes some people face difficulty while tracking the packages which they shipped using USPS such as Your Item Is Currently In Transit To The Destination,
What all tracking status means, and the main topic is USPS Tracking Number Not Updating. However, do not worry, because here you will find all that you need to know, what to do, and how to solve the problem.
The tracking system usually works perfectly, but sometimes it shows USPS Not Updating Tracking due to some issues happening in the backend, so let's get the whole picture in this post.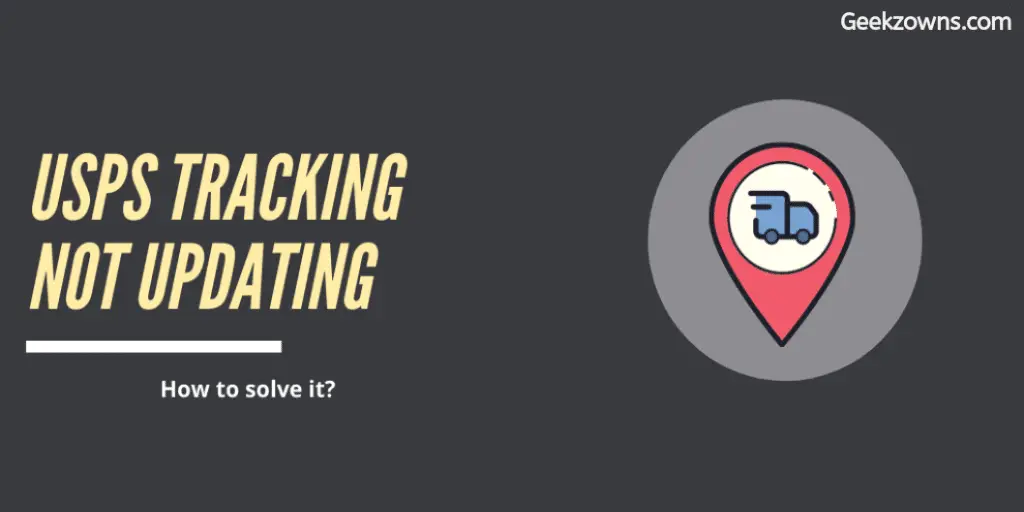 USPS Tracking Not Updating
USPS tracking may not be updated because of Weather conditions, barcode errors, or packages stuck somewhere in transit. Better to wait for 48 hours and status of tracking should update automatically, but if it doesn't then contact USPS via their website.
You may contact USPS if your status does not change within 48 hours, but we recommend waiting three days before doing so.
However, the tracking problem gets solved automatically by their end, there is nothing to do by you. Just wait patiently, tracking will get fixed very soon and you will see your package tracking is working correctly. 
Before we move to the reason, first, You should check the tracking number you have entered is correct or not.
I have shared a few places where you can find a tracking number and then match it with the one you have entered.
Below are some places where you can get your tracking details and other information.
Check the email you receive after your package has been shipped.
Check the post office receipt.
Find your tracking id on the sales receipt, which you got after purchasing insurance for that package.
You can also check this post, on how to find a lost tracking number to get the correct tracking id, and the other option is to wait for a while to get your tracking status back.
Why Is My Usps Tracking Not Updating – The Reasons
There are many reasons that can lead to tracking not being updated, including:
The package is not shipped yet.
The package's Barcode is not scanned Yet.
USPS Not Scanning Packages
Harsh Weather Conditions.
Broken or Unscannble Barcode.
Error in Tracking System.
So if your package's tracking is not updating, wait at least 48 hours to see the latest updates about the package and if it's not get updated, get in touch with the USPS customer representative.
Having said that, let us go through the details of each reason.
1. The package is not shipped yet
It happens when you check your package status with an old tracking number or without a tracking number at all. This will never help you to track the package until it actually comes to you.
2. The package's Barcode is not scanned Yet 
One of the reasons behind the tracking status not being updated is the package barcode is not being scanned. Hence, wait until it is scanned and updated. This can take up to 24 hours.
At the top of every package shipped through USPS, a barcode is attached that is scanned by every UPS warehouse; this process is repeated several times until it reaches the delivery destination, which updates the shipment's status in the tracking system. 
Basically, it means, The package has been shipped, but the scan attempts haven't been made yet.
There is a possibility that your package might be on the truck, but it just has not been scanned yet. So you need to wait until the next scan attempt.
Or,
During every sale or event, they receive a large number of packages to be delivered and Since they don't get enough time to scan every package, they send them directly to the customers.
So we thought that there is a Usps Tracking Problem but the reason is others. If you are waiting for your package during a sale, be patient, it will arrive soon.
3. Weather
The most common reason USPS tracking information hasn't been updated is the weather. Snowfall, thunderstorms, and rain can cause packages to be unable to be scanned or delivered on time, and this leads to the tracking not updating.
As it is natural; it may cause traffic jams or other problems. As a result, packages are directly sent to customers.
4. Broken or Unscannable Barcode
Due to unknown reasons, barcodes sometimes get damaged and make scanning the package impossible, or the package barcode might work but not give accurate information, which could account for the lack of tracking updates. 
5. Unknown reason 
There may be an error in the system. It happens when there is a problem on the system side. In this case, you can wait till the system get up or contact USPS directly for a solution.
USPS Tracking Not Updating: What Does That Mean?
Generally, the tracking is not updated due to bad weather conditions, a malfunctioning barcode scanner, and system errors, so if your tracking is not updated within 48 hours, call USPS customer service to inquire about your package.
In the event you didn't get any updates for more than a week, don't worry. It is more likely that your shipment is on its way to the delivery location, and there will be an issue with updating your tracking.
You may receive it on time, just wait till the delivery date. if you feel something went wrong with the package, you can contact customer support to know more about the package.
USPS Tracking Number Not Working – What Went Wrong?
The USPS tracking info will be only as accurate as the USPS update it. If the USPS has a problem updating the information via USPS update, then the USPS tracking number not working is going to happen – there's no way around it.
Also, If the USPS tracking number is not working, there is something wrong at the USPS end.
In other words, USPS may have a problem updating its tracking information, or USPS may not be able to properly identify your package from the start.
How Often Does Usps Update Tracking?
As soon as the package arrives at a new location. When a package arrived at a new location, it gets scanned in the tracking system, the tracking status gets updated.
A package's tracking number may not be updated immediately once it has been scanned. The update can take up to 24 hours.
Nevertheless, tracking updates can take longer if there are bad weather conditions such as a snowstorm, or if there are understaffed or overcrowded facilities.
Furthermore, if your package is traveling a long distance, there will be more stops like a facility to facility b, resulting in more tracking notifications.
In addition, if your shipping location isn't too far away, your tracking may only show one or two updates before delivery.
What should I do when my USPS tracking doesn't update?
Wait until it is scanned. When the package is in transit, there are several scan attempts (about 3-5 times). If your package was not scanned yet, please wait patiently to make sure that everything is ok.
Once the package will get scanned, you will get what you need to know about it. or,
You have to wait till the delivery date for that package to arrive someday; if it does not arrive, contact customer support and share all the details and your tracking number.
The customer service representative will tell you all the details of your shipment right away, or they will be in touch with you within a few hours (it could take up to 48 hours) with accurate information about your shipment. I hope they can help you in this regard.
There is a high probability that they will give you accurate information and your package will arrive quickly.
How Long Does It Take USPS To Update Tracking?
It can take 24 hours to 4 – 5 days, depending on what's happening behind. So when Usps Tracking Stopped Updating, wait till the expected arrival date with patience.
Moreover, you can know more about USPS Tracking Problems, by contacting the support team. Additionally, you can follow the below process to track the package quickly.
To check this out, go to USPS – Track & Confirm, find your mail piece by using any criteria you want (it doesn't matter), and fill in all details exactly as they appear on the label. Now click "Track Details to know why the USPS tracking number not working".
As long as everything appears to be fine and there are no issues, your mail will arrive soon.
However, if you feel there is something wrong, USPS Tracking Status Not Available, or have a few queries, you should contact customer support and let them know the problem. They might ask you a few questions to verify your identity.
The only way to get accurate information is to contact customer support. Depending on all the information you provide, they may tell you right away or may contact you after a few hours.
You can also wait 24-48 hours and recheck the tracking info. As I said before, maybe they have not started the processing yet. That's why it is not working.
How to track the package when USPS Tracking Not Working?
Most people encounter tracking numbers not working or updating problems; on any occasion or during any sale, they receive a large number of packages, so to expedite the delivery process, they do not scan the barcode and they directly deliver the package. Alternatively,
Often they skip package scanning, which is one reason why USPS Tracking Number Not Working appears.
Thus, you need not worry that they will update the tracking information once all shipments are delivered. Alternatively, you can try using the method listed below.
Wait until they update the tracking status.
Via the text message using the USPS Text Tracking feature Else Send a text message with your tracking number to 2USPS (28777).
Call customer support to know the current tracking status.
There is no need to worry, it will be fine soon and you'll get your package at your doorstep. The issue occurs to many people, but 99% of the time it gets resolved automatically.
Related Post:
FAQs related to USPS Not Updating Tracking
It usually takes them around 24 hours to update shipment status; if they do not update, there may be a problem, so it may take longer.
During occasions or sales, USPS receives huge packages. Because of this, they'll face handling issues, so they send the package to its destination without scanning it.
Wait a few days; if tracking details are not being updated, contact customer support and ask about the package and tracking.
No, just wait. Typically, tracking information is provided between 24 and 48 hours or until your package is delivered; if you want accurate information, contact customer support.
USPS Priority Mail is among the fastest services, so domestic mail typically arrives within one to three business days. As for the transit time, it depends on the distance from the sender's address to the destination, weather, etc.
For standard services, it takes 5-8 days, however, it varies depending on the type of service you have chosen, the distance, the weather, and many other factors. Track the package to stay updated.
Conclusion 
In some instances, USPS tracking does not update due to weather conditions, bar code errors, being stuck somewhere, or a package in transit. Check back in 48 hours to see if the tracking has updated and if not, contact USPS customer support.
In the event that your tracking number has not been updated for 5 days, contact customer support to know the latest update about the shipment.
I hope this blog was useful for you and now you know why your USPS Tracking is Not Updating. So this was all about When Usps Update Tracking and what you can do when USPS Tracking Status Not Available.
If you want to confirm or need any help regarding your package, contact USPS customer support; they will surely help you.
Don't forget to share this post with your friends if you found it useful.
Originally posted 2022-11-20 23:30:00.