People often ask questions such as Can I pick up a package from USPS before delivery? In order to receive their package before the delivery time.
Therefore, they wish to know how to collect a Package /mail from USPS before delivery. To find out the answer to this question, please read this post till the end.
People are often unable to wait for delivery when they purchase something online. This is what you are going through, isn't it? In that case, I have some good news for you and customers, which will be detailed in the post.
Let's get started.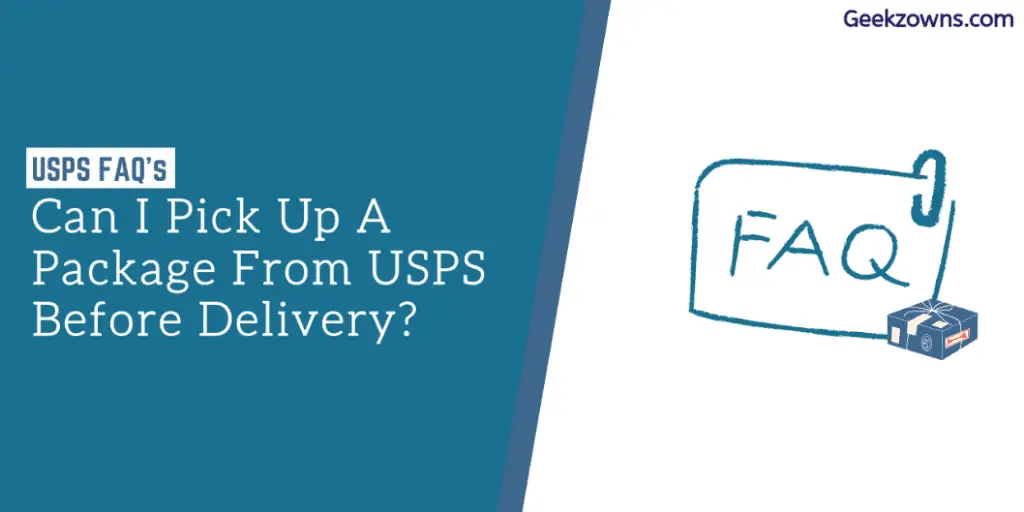 Can I Pickup A Package From USPS Before Delivery
Yes, you are allowed to pick up a package before delivery, but there should be a valid reason for you to do so and it is actually a very simple process that results in a seamless delivery experience.
Before doing this, you need to make sure your package has reached the post office since if it is still in transit, it will not be able to be delivered. Self Pick-up of the package by the post office can only be arranged when the package is available. 
Also, you should have to inform them before picking it up because USPS won't let you pick up packages without prior notice.
Moreover, many things vary, for example, your delivery location, post office in your area, and the reason you have for doing so.
The steps and information I have provided below will enable you to pick it up by yourself. However, there are only a few services where you can schedule for delivery early.
USPS Package Intercept
The first method is package intercept. You can choose this method if you want your parcel delivered before it has been delivered.
The delivery destination address can be changed to a different address using this service, or the package can be held until it arrives at your doorstep.
The intercept option only works with letters, parcels, and flats with a tracking barcode. And authorization is needed to use this service.
To use this service, you need to contact your local post office or log in to your USPS account and determine whether your package can be intercepted or not.
You can also use this link. The link indicates whether or not you are eligible. Once your application is approved, you can collect your parcel before delivery.
How to avail of this service
Whether or not you are eligible is all you have to know.
Once you get the confirmation, login into your USPS account.
Request the package that you want before delivery and submit all the details.
The process requires approval, and once you have been approved, USPS will send you a message.
If you received a confirmation email, congratulations, your package is ready to pick up before delivery now.
Simply go to the post office or a pick-up location and collect your package and enjoy!
Restrictions on package Intercept
Shipments with a barcode can avail of this courier service.
Package girth and length should not be more than 274cm.
Only domestic mail services are supported by this service, not USPS marketing or periodicals.
If your package is not intercepted, there are no additional charges; if it is intercepted, each request will incur a charge.
The intercept fee/charge is not refundable once the payment has been processed.
More restrictions can be found on the website.
There are a few more restrictions that you can see on the official website.
Hold for pickup on USPS
You may pick up your package at the post office yourself if you choose the Hold for Pick-up service, but you have to inform them beforehand.
Upon receiving the acceptance, the United States Postal Service will email you the package pick-up hold confirmation. However, Those who have chosen priority mail express service can use this option.
When your package goes on hold, you can go and collect it. If you don't go there within 4-5 days, you will be notified again by email and message.
Note: If you cannot pick up your package within 15 days, it will be returned to the sender.
There are times when they won't let you pick yourself. After that, you will have to wait for the package to be delivered to your home.
This service works on:
Hold service only works on Priority Mail express Packages
This service does not work on:
Hold service does not work on First-Class Mail letters, flats, and others.
Place Your Mail on Hold:
This is another way to receive your package by yourself. As the name implies, The United States Postal Service [USPS] holds your packages at the post office for you when they arrive with your name and address, so you have to go pick them up yourself.
If you are thinking it is held for pick-up, it is not. The two look similar, but they are different. This service requires you to go to the post office whenever any of your mail comes. It applies to all mailpieces, not just one.
How to do it – It requires you to submit a request for a Place Your Mail on Hold at the post office so that when any packages or mail arrive, they will hold it. The process can also be done online with the official website.
However, mailpieces can be held for a maximum of 3 days of period.
Here's more
If you've been tracking the package for a long time, then you must have a current status for the package. Once it visits the post office, you can go there early to let them know about the package. There is a chance they will find it and give it to you.
The package can be found in the route if you know the mail carrier's route and to let them know about the package. They'll definitely help you. You can only do this when your parcel is out for delivery.
There is an option for you if you aren't at home or leave early and your package is on its way. You can put a message there indicating instructions that you are not at your home [through the noticeboard or any other way]. In this way, the package will not be left at your doorstep, and the letter carrier will take it back to the post office. Then you can pick it up with your ID card by yourself.
This is important to know.
The person delivering the package needs a signature confirmation. If you're not at home, they can't deliver the package, so the letter carrier keeps it at the post office. By visiting the post office, you can pick it up yourself.
In case of an emergency, you can also get your postage package early. Contact the postmaster about this. They will surely be able to help you, but remember that the mail item must arrive at the post office.
You may be able to pick up your package on the delivery day if you go to the post office before the package delivery distribution van departs, which is 10:30 a.m. If you go ahead and wait, you might be able to pick it up.
So yes, USPS allows you to pick up packages early. You should call USPS ahead of time to let them know you're picking up the package early. Moreover, you should have a prior notice from USPS to do so.
Related Post:
FAQS related to Can I Pick Up A Package From USPS Before Delivery
No, you can't pick up your packages from USPS without any notice. You have to apply for this approval beforehand, and then you'll be able to pick up your parcel before the normal delivery time.
If you tell them to hold your package at the post office, then you can pick up your parcel, but if not, then you can't collect your package before the time of delivery.
Occasionally, we are not at home due to any reason, and therefore we missed the delivery. If that happens with you, too, you can schedule a new delivery date or collect your package yourself at the post office with the redelivery notice (PS Form 3849) and your photo ID. 
No, The package/parcel cannot be picked up from the distribution center.
If your package is important or urgent, then you must wait for it to arrive at the post office to pick it up; however, you cannot pick up your package from the distribution center.
USPS sometimes fails to deliver mail due to insufficient delivery addresses or whatever reason, but don't worry; you have 15 days to collect the package since the Postal Service holds the piece of mail 15 days before it is returned to the original sender.
No, there are no charges for the Intercept for the package you want to intercept until your intercept request proceeds.
If your shipment is intercepted, then the intercept cost will be $14.65 plus any applicable postage.
Conclusion
All the information regarding Can I pick up a package from USPS before delivery has been explained. Hence I am hoping that all your questions have been clarified after reading this.
In Short, Yes, you can pick up the package from a USPS location before delivery if you have a valid reason to do so. Moreover, USPS also has many services that allow you to pick up your package before it is delivered, as well.
The possibility of getting approval quickly might be higher if you have any valid reason, such as an emergency that prevents you from delivering the parcel or if you might not be in the house when it's delivered.
If you have any doubts or queries regarding Can I Pick Up A Package From USPS Before Delivery, please contact the post office or customer care; they will help you with this matter.
Originally posted 2022-09-17 00:30:00.