Did you receive a package from a package that you did not order and wondering Who Sent You an Amazon Package? If so, you're not alone. I've experienced the same thing. 
Amazon is one of the leading eCommerce platforms; with it, You can order just about anything that you could imagine right to your door with just a few clicks.
Additionally, they have streamlined the gift-giving process by offering customers the ability to order packages for others. 
The person who sent you the package may not have been clear, but what if you would like to thank them for their generosity.
The information in this article explains How to Find Out who sent me a package from Amazon and what to do. So let's get started.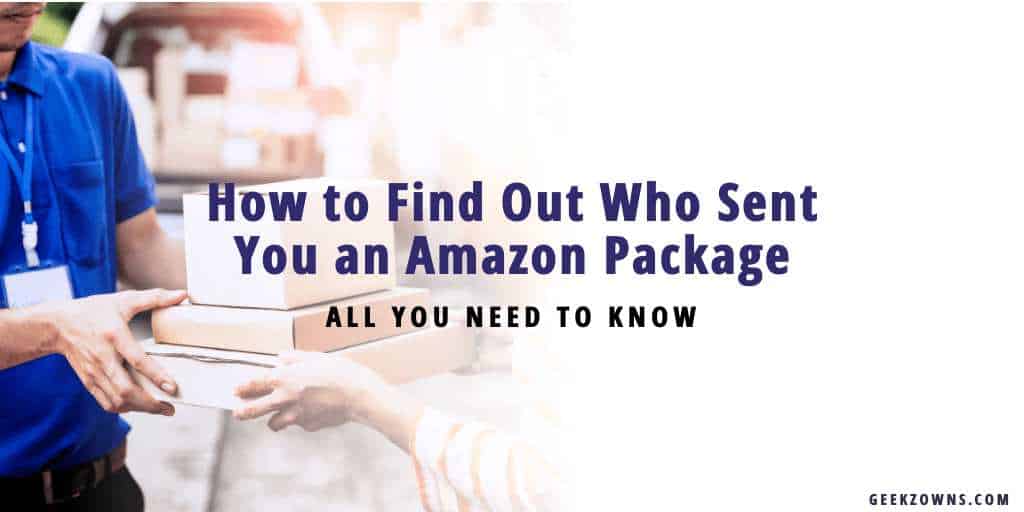 However, In the case of anonymous gift packages, you can't figure out who sent you.
But try to Give as much information to the customer representative about the package as possible, so they can provide you with the exact information about the package. 
However, the gift receivers will never know the sender's name unless the sender asks for it to be included. 
According to the amazon data policy, Amazon cannot disclose the sender's information unless they are willing to do so. In this case, you can ask your loved ones about the package to know who sent you.
However, Amazon will help you find the information you need and resolve your issue if you receive an unwanted package. It has been reported that people received packages that they did not order as part of a complex fraud scheme called 'brushing scams.' 
If this is the case in your case, it is recommended that connect with the Amazon customer representative for further assistance. This is because Amazon has a good record of solving consumer issues.
There are some other ways to get the information on who sent you the package: ask the sender if they are willing to supply this information, but in most cases, you may have no choice but to contact Amazon Customer Service Center for this purpose.
Are Amazon Parcels Anonymous:
Customers can choose not to include their personal information on the packing slip that comes with gift purchases on Amazon. Some people do this in order to remain secret when sending gifts anonymously.
The reason for this is that people do not want to reveal that the gift was sent by them. However, some people prank friends by sending unwanted gifts, so you should be aware that receiving from Amazon can result in receiving unwanted items.
But it is important to note that the Amazon packages return policy does not cover this situation. Therefore, if you have received amazon gifts anonymously and you are not satisfied with the product, Amazon is not responsible for any sort of refund.
There is another concern when receiving anonymous gifts. Is that some of the parcels are filled with toxic materials such as harmful chemicals or banned items and chemical weapons, which may cause serious health complications to their recipients.
Therefore, in order to avoid any type of risk, it is recommended that you contact Amazon customer service in case of any concern. 
However, it is also important to note that Amazon does not provide information about who sent you a secret gift, but they will provide more details about the package and its contents.
Related: Tracking Number Formats By Carrier
How do I track an Amazon package that someone else sent me?
You will need to ask the person who bought the item for you on Amazon for the tracking information if you want to track it. You can track a package with Amazon or local delivery service with a tracking number, basically.
But to do so, you have to know who ordered the package for you. If you don't know, you can't do anything. There is no such option to track packages without a tracking number.
However, The only way to track a package without knowing the person who ordered it is to contact Amazon Customer Service with the information that was included in the order, such as tracking number, packing slip info (shipping label), shipping address, package number, sender's address( if available also check return address), item description, etc.
Related: Canada Zip Code: All You Need To Know
Can You Find Out What's Inside an Amazon Package Without Opening It?
Amazon lets you see what is inside a package without opening it, which is great if you do not know who sent you a package or if there aren't any details available.
Moreover, when you have the Amazon app on your iOS or Android device, you can easily check what's inside a package by clicking on the camera and choosing the "X-Ray Packages" feature.
During the scanning process, you will be instructed to hold the camera close to the barcode so that it can be scanned, and Amazon will bring up a list of contents within the package.
Additionally, scanning the barcode to see what's inside the box could also be helpful in figuring out if someone has sent you a gift from your Wishlist or if they have sent you an item fraudulently.
What to do if Amazon found a package I didn't order?
If you receive an amazon gift package that you didn't order, do not accept it. Instead, contact Amazon immediately and make sure to get the address of the shipper and send it back to the shipper's address.
However, if the package is shipped by Amazon Flex or UPS, for example, tell Amazon that you do not want to receive it. They will take care of sending it back without cost to you. And this will also save you from receiving toxic packages.
In the case of an unexpected package, you should contact Amazon Customer Service Center and ask about it.
If you do, they may be able to use it to pay for the return shipping. Otherwise, they will just send it back at their expense.
Do You Have to Pay for Amazon Packages You Didn't Order?
If you receive an Amazon package that you did not order, you will not have to pay for it since it is considered an unsolicited item, which you could keep and consider a gift from Amazon.
If you think a package you received and didn't purchase is part of a scam, you can fill out a form on Amazon Report Unsolicited Packages if you believe that you have received an unsolicited package.
Regardless, in the event that you have received a package containing food, seeds, or plants from Amazon, you should either contact Amazon in order to discover the sender or contact the U.S. Department of Agriculture.
It is very important that you do not open any packages that were sent to you unless you find out who sent them. Anything you open or report will likely be invasive and could carry diseases.
Moreover, if the package you received from Amazon is something you didn't order and don't need, for whatever reason, you could donate it or dispose of it, particularly if you can't find out who sent it to you.
---
Related:
FAQs
Yes, you can. However, in most cases, the sender will be anonymous.
In most cases, Amazon will provide you with the information you need to find out who sent you the package. However, in the case of Unknown gifts, they will not provide this information.
Amazon will not provide this information if it is an Unknown gift. So the last option is to ask your friends and loved ones about the package.
No, you will not. Amazon will not disclose information to you unless they are willing to do so. However, if the sender allows them to tell you about it, they will tell you, or you may find them in the package box.
Yes, they will, but depending on the policy. First, contact them about it, so they will provide you with the exact information.
No. Their investigation will start right away. However, if you are still worried about your package, call them immediately to know the updates.
Conclusion
So you can not find the info of the sender Who Sent You a Package through Amazon if they are not willing to reveal it; however, in the case of an unknown package, you can report them on amazon so. It will be investigated, and you will receive the necessary information.
I hope you have understood How to Find Out Who Sent You an Amazon Package. If there are still any queries, comment below or share this information with your friends if you found it useful.
Originally posted 2022-11-12 11:30:00.