Appearing USPS In Transit To Next Facility for more than a day and want to know what is happening? What should you do? Don't worry, here you will find everything you need, so be sure to read the whole post.
USPS is one of the top courier companies in the United States, delivering hundreds of parcels daily. Sometimes tracking shows different kinds of tracking statuses or the same tracking status for several days, such as this one.
Which might confuse one of us. Is it the same with you? Don't worry, here you will find everything you need to know about In Transit To Next Facility, so let's begin.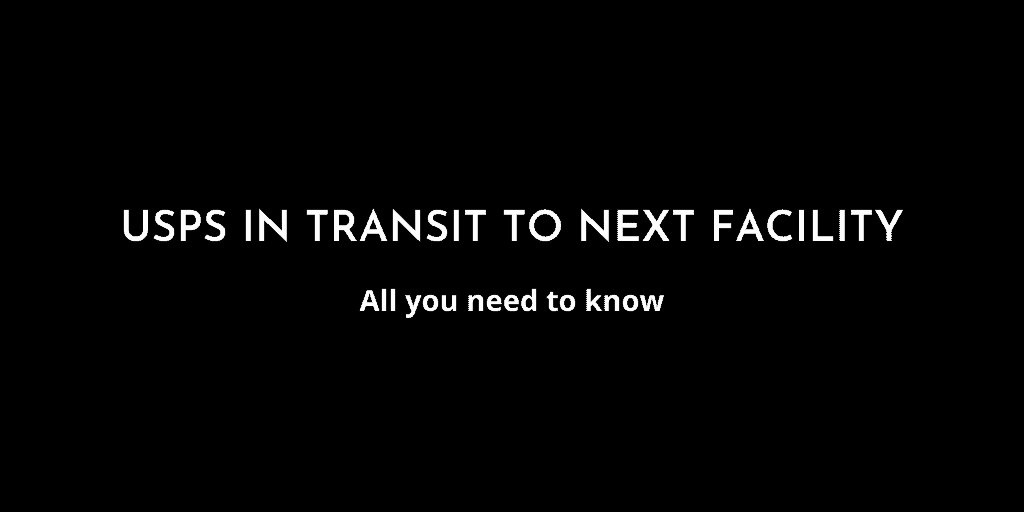 What Does In Transit To Next Facility Means?
When a parcel/mail is shipped with the USPS and moved forward to its destination, it has to be sorted for its route to continue. It must be scanned at every distribution center to update the Tracking history on the official website.
Basically, it works by scanning the barcode to update the package status. So, when the package moves toward its destination, it has been in the container, and at that point, it states USPS In Transit To Next Facility, Because that time it cannot be scanned.
In Transit means that the package is headed to the next facility, the US Postal Service distribution center, which can be anywhere from the sender's address to your address.
Why USPS Showing In Transit To The Next Facility For 3 Days?
This is because the barcode could not be scanned. Since all the parcels are in the container, the scanning cannot be done while traveling. For this reason, USPS shows In Transit To The Next Facility are showing again and again.
As soon as it reaches the USPS distribution center, the tracking status will be updated. It's basically a notification that everyone receives when a package has been in Transit.
In case you've been seeing this for more than a day, please don't worry, it will be delivered to you before time, and in case you feel your order is stuck, please contact customer support to get the latest information.
Is there any way to speed up the mail?
No, After it has been shipped, there is no way to speed up any courier service. Therefore, whenever possible, choose priority mail express or other quick mail services for urgent and essential packages.
Here's more
You should always use priority mail or another quick service if your package is urgent.
If your parcel can be broken, ensure that it is properly covered and use insurance for that.
To get your package delivered fast, be sure to use the correct and original residential address.
Related Posts:
Faqs
It usually takes 3-5 days for it to reach its destination. Essentially, it depends on the distance from the sender's address to the destination location, the weather, and the service you choose.
It doesn't take long to reach the distribution center. Usually, it takes 24-48 hours, depending on the distance, but sometimes a bit longer. If your package has not been updated in the past few days, then contact customer support for more information.
This isn't true. In Transit to the next facility means that your package is en route to the next facility and at this point cannot be scanned. Upon reaching its destination, the package box needs to go through multiple facilities.
Final Thought
You have seen the full explanation of In Transit To Next Facility, and now you know all the details. Don't worry if you've seen this for more than a day; your package will arrive soon. 
To get updated about the package, you can contact the customer support team.
Is there anything I can provide more insight into? Please leave a comment below, and if you liked the post and found it helpful, please share it.
Originally posted 2022-09-15 04:15:00.