Looking for a guide on how to raise USPS Complaints? If yes! You're in the right place. In this post, I'm going to present if someone i,e. – you, your neighbor, or anyone facing an issue, then you can raise a complaint using different methods.
USPS [US Postal Service] is one of the most popular service providers. As part of its commitment to providing an awesome customer experience, USPS offers several ways customers can file a complaint with them,
If there is a problem, anyone can contact or file a complaint without hesitation. Because USPS believes that the customer is everything, if they are satisfied, everything is fine, and if they are not, then anything can go wrong,
Because of this, USPS never ignores complaints or lets down customers. Because of this, USPS never ignores complaints or lets down customers.
Now, let's discuss submitting a complaint; it is relatively easy to fill out and submit a complaint, and there are various ways to do so.
So let's get started…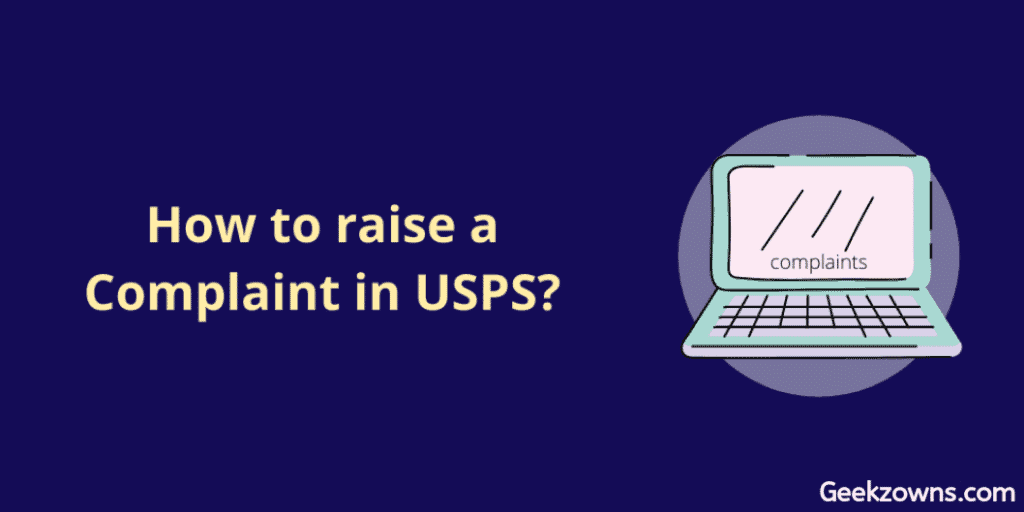 How to File a Complaint in USPS
To file a complaint, I have set up a list of methods, so you can easily understand the process and file a complaint; all you have to do is contact them and explain what has happened or is happening to them, and they will surely assist you.
Contact USPS via Email Form – You can contact the US Postal Service via email by visiting their official website, choosing the correct query type, and writing all the questions you would like answers to. You then submit the form. It is also possible to submit a claim or ask for a refund.
Send them a complaint letter – you can also write and send a complaint letter to the USPS's Consumer Advocate office with all the details. The address will be given below; also, you can get an address from the official website.
Making a phone call – you can also contact them via making a phone call by dialing 1-800-ASK-USPS, 1-800-275-8777, or TTY: 1-800-877-8339. It's a post office complaint number, and it will go to the customer care executive, tell them all the issues and file a complaint.
Visiting the post office – This method is ideal for those who aren't tech-savvy. In order to file a complaint, you must go to your nearest post office and speak with the station manager or the postmaster, explain all the issues, and they will help you by filing the complaint. With this tool, you can find your nearest post office.
To find your nearest post office, you need to visit the nearest post office locator, select the within miles as per your choice, and search; after that, you will get the post office name and address along with contact. For more info, see the below-mentioned image.
United States Postal Service complaint letter address –
Office of the Consumer Advocates
475 L'Enfant Plaza, SW
Washington, D.C. 20260-2200
How to file a Complaint using USPS Complaint Form
Additionally, USPS offers a contact form for making a complaint; this is a simpler process, and anyone can directly contact USPS. Only a few complaints are accepted via USPS's contact form, such as
Injury compensation fraud
Contract Fraud
Embezzlements and financial crimes
Employee Misconduct
Election Ballot
Kickbacks
Computer Crimes
Narcotics
Destruction of mail by Postal employees or contractors
Whistleblower reprisal
Internal affairs and executive investigations
COVID-19 Stimulus Check
Theft of items from the mail by Postal employees or contractors
First, to file a complaint, go to the official website's contact page by clicking this link and following the below-mentioned instruction.
Note – Before you submit or fill in any details, Please take a minute and read the following details from the contact page before filing a complaint.
Fill in all the required details.
Fill in yourself when the text box asks.
Select Yes or No option when the form asks, "Do you wish to remain anonymous."
If you select yes, then you do not have to fill in your personal details; if you choose no, then you'll have to fill in all the required information, i.e., your name, address, contact number, city, state, etc., so it's all on you.
Are you willing to be interviewed?, select Yes or select No from the option.
Complete the captcha verification by clicking on the box.
Now all done, click on the Preview before you submit details and then submit.
If your complaint regarding tracking, tracking, attempted delivery, late arrival, misdelivery, etc., or related to the package, then complaint the issues to USPS customer service instead of complaining via this form.
File Complaint about Theft, Fraud, Waste, or Abuse Committed by the USPS or its Employee:
If you feel that theft, fraud, waste, or abuse has been committed by USPS staff or through USPS, you can file a complaint against him with the Inspector General (OIG) at the post office.
Many ways out there to file an against Theft, Fraud, Waste, or Abuse Committed by the USPS or its Employee, such as –
File a complaint online using a complaint form.
Call 1-888-USPS-OIG or 1-888-877-7644 to contact customer care. It's a USPS customer service complaint number.
File a complaint to Inspector General (OIG), know more!
Related Posts:
Final thought
As you saw above information to contact the USPS team to raise a Complaint, There are many more ways to file a complaint to USPS, which we will update in the future. In this post, we've shared only essentials methods, 
which will help you in any case such as File a Complaint in USPS, File Complaint about Theft, Fraud, Waste, or Abuse Committed by the USPS or its Employee, USPS Delivery Complaints, etc.
USPS offers many ways for you to track the status of your complaint on its official website – USPS dot com.
I hope you'll get all the information here; if you liked this post, share it with your friends and family members.
Originally posted 2022-08-17 13:20:56.