Last Updated on September 26, 2022 by Olivia
Have you sent packages/mails to somewhere or have to receive mails and you've seen Processed Through Facility ISC Chicago Il (USPS), and the tracking is not updating. Is that right? Not sure what to do? Do not worry; you will discover all the details about it here.
So you will know here when your package is moving from ISC Chicago il and when it arrives at your address. We will begin by discussing What ISC Chicago Il (USPS) Is, why it is showing and when you will receive it, or if it is stuck, what you should do. Let's start.
When a package arrives from an international location and is heading somewhere, it has to go through customs to reach the destination; every country has customs offices.
Chicago Il (USPS) is one of the customs offices that process international mail and international packages in the USA. Therefore, don't worry if you see this tracking status while tracking. 
It is a normal tracking status that is displayed for every package/mail that comes from outside the country. This is because the package will be moved from there soon and arrive.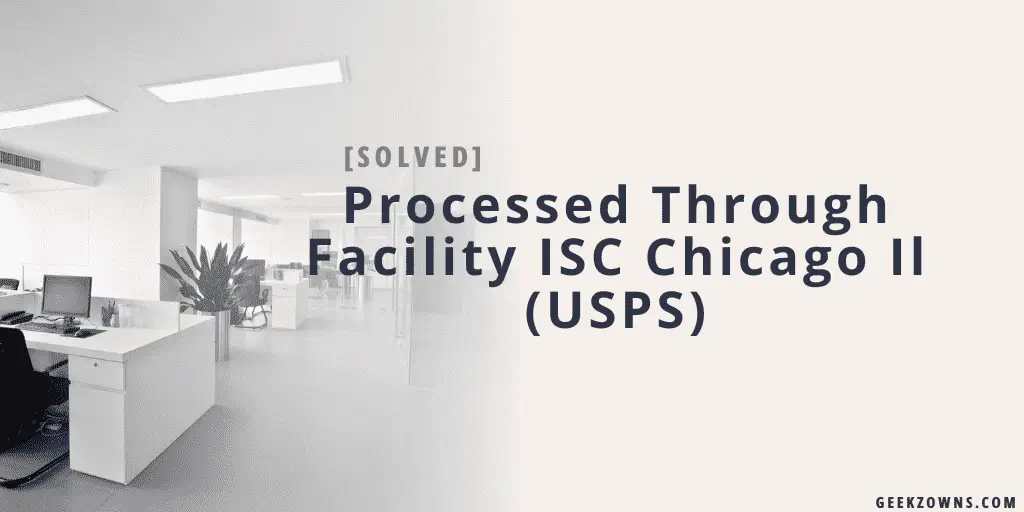 ISC Chicago il (USPS) – how long does it take?
When you see the status "Processed Through" or "Processing," it means that your package has entered Customs, The tracking will get updated once the inspection gets done. Generally, you will receive updates in 24-48 hours.
The moment your package enters the USA, you will receive updates at least once a day. Thus, if you do not receive any update for 2-3 days after entering ISC Chicago il (USPS), it could mean that the package is still in customs.
It takes about 2-4 days to complete Customs, and then it will leave the facility and enter into the next process.
The reason behind the delay is they have to unload the receptacles containing packages from inside the airplane, proceed through customs, and then it will be handed over to the United States Postal Service.
The mail is inside containers, so they are unable to scan the barcode before sorting it. After all the procedures are completed and the mail gets sorted, the tracking status will appear, such as inbound out of custom or others.
Note: Package/mail sorting is needed for the different locations. And also have to wait for a flight to take the packages to their final destinations.
Although the tracking shows a package is there, it is not confirmed to be there yet, so please be patient; once the package is sorted to be scanned, then the status will be updated.
ISC Chicago Il (USPS) is holding my package or mail. What should I do?
In most cases, packages are released within 72 hours. So stop worrying about your package being stuck at ISC Chicago Il; soon, you'll be able to see its status as it is coming out of customs.
For clarification regarding why tracking doesn't get updated and feels stuck at the ISC, contact customer support.
What would be the reason behind packages being stuck or taking longer to update?
The answer depends on whether they have identified anything suspicious or risky or may have any issues with ramp reports. Due to this, the package verification procedure is likely to get longer.
Once everything has been cleared, it will be handed over to USPS to be delivered.
Should I be concerned about the package getting stuck?
Even though the tracking shows that a package is stuck at ISC Chicago il, it does not mean that your package has got damaged. It only implies that packages are being checked thoroughly and need to go through the verification process.
No doubt, it seems like your package is stuck at ISC Chicago il; however, the vast majority of packages arrive in approximately 2-3 days.
So there is no reason to worry whenever you see this status continually showing up.
It will be moved to the next process as soon as everything is cleared.
---
Related posts:
What will happen if I don't get an update for three days?
If you are about to receive packages, it could take some time before they are received. After all, it takes approximately 2-3 days to complete the customs procedure, and then it is transferred to USPS to deliver it.
How much time does it take for a package to be scanned?
2-3 days is what it takes to scan a package after arriving at ISC Chicago il (USPS). If it takes more than that, then most likely, there are issues regarding clearance.
Is it possible to get the package while it is being scanned and verified?
No. The process is called "Verification," so the package/mail can't be released while it is on the way to USPS.
Final thought
Your Item Has Been Processed Through Our Facility In ISC Chicago Il (USPS) is a normal tracking status, and it shows on every package/mail that comes from out of the country or goes out of the country.
USPS' ISC Chicago IL stands for International Service Center Chicago. It is one of the places where packages and mail arrive in America. Here, Mail, packages, mail packages are screened at customs to make sure they are cleared for delivery to any state in America. It also applies to products going out of the country.
You shouldn't worry about customs being involved in your packages or mail because it's important for security reasons. Instead, wait for your package; it will arrive soon at your address. If you feel it is taking longer than expected, contact customer support.
Here's hoping you will find this article helpful and you will understand everything about it. If you enjoyed this post and found it helpful, please share it with your friends.