Mistakes can happen with anyone, but we can't tolerate it for any responsible work. Same when the delivery man of USPS Delivered To Wrong Address,
Then you find out what happened now and wonder about what to do in order to get your package back.
Not to worry, it could happen to anyone. You're not the first or the last to experience it. Basically, the delivery man or staff gives that package to the wrong address without reading the address, or perhaps the sender filled the wrong address details during the delivery process.
Any of the reasons if USPS Package Sent To Wrong Address, then no can get back to you, but there are higher chances that your package can be retrieved back, so read this post till the end you'll get to know all the information.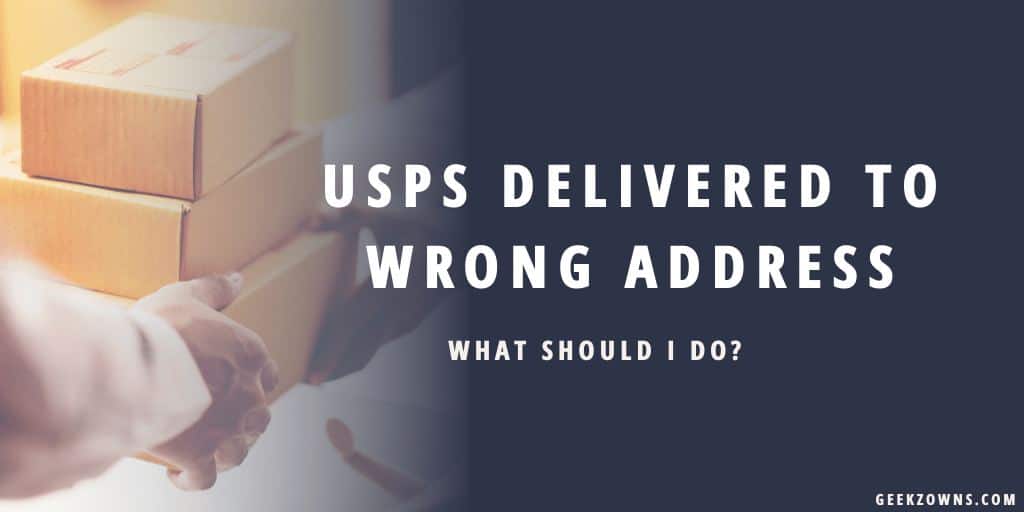 USPS Delivered Package To Wrong Address
USPS delivered my package to the wrong address is quite normal. It means it can happen to any person, so no worries, we've got to get it back. Before we know how to fix it, we need to know the scenario when it happens.
Scenario 1
When tracking details show your package has been delivered, it has not yet reached you. There is a higher possibility that The delivery man may mark your package delivered by mistake before he arrives at our place, so wait till night.
The wrong delivery mistake happens to me too often, so I would suggest you call customer care. After that, let them know about the wrong delivery, and they can note down the complaint of your package and retrieve your package back if the error came from their end or if it was delivered by a delivery person.
There is a higher possibility that they can retrieve your package or it will be in their recovered list, and soon you will get it back.
Scenario 2
If the error occurred at the end of the sender, if someone incorrectly typed or mistyped the address, then USPS may or may not help you to get it back.
This is usually not their responsibility, so you'll have to deal with this problem yourself, or, if you know the sender, then get in touch with him and tell him all the details. If you know each other, you may find the package shortly.
In addition, you may request USPS to provide the consignee's name, signature, and address. Then, you'll have to go to the recipient's home with all the required information.
The chances are high that the receiver of your package may have received it by mistake and that the package does not belong to him, so he'll probably return your parcel. Also, you'll need to get in touch with USPS while trying to resolve the issue, so it's resolved quickly.
Track your USPS package from time to time
This answer may have appeared on many forums: track your USPS package from time to time until it arrives. Basically, it means if tracking data shows that your package is delivered, but you haven't received it yet,
In this case, you can contact the support team immediately to find out more information about your package, so it is either delivered to the wrong address, or there was an error that showed it had not been delivered. Your package is in the post office.
How to track – The USPS has a tracking system that can help you; you just need your tracking number in the text box and click on "track". You can easily find your tracking id on the mailing receipt or email which you've received from USPS.
Now let's come to the main question!
What do you do when the package tracking status says delivered?
When the tracking system tells you that your package has been delivered, but you have not received it yet, then it could have been delivered to the wrong address or may have been rendered unacceptable by an error, which can be confirmed by contacting customer support.
In order to find out if the address is correct or incorrect, check the package's destination address; if it is right, USPS has to take action and send you your package. And it's best if you're proactive and taking charge of it.
Do all the work yourself rather than waiting for them to resolve the issue. If you follow the same guidelines, then it becomes simpler to locate the package and retrieve it.
What to do and what's doesn't
Dos
Keep your eyes on your mailbox in case the post office sends you a notice regarding your package.
You can also contact your customs office and request them to make an inquiry about your package and delivery. [in the case of international delivery]
Don't
If it is an international delivery, contact the customs office rather than the post office, as the USPS does not have permission to inquire about your package.
Do not panic in this case as Panicking is not a solution for quickly finding your package, so relax for 30 minutes, be calm, and then try to locate and do the things. You can be worried about your package, but Panicking is not the solution.
Can USPS find a lost package?
Your first step is to inform them about the Package Delivered To the Wrong Address. They will then attempt to locate your package. It can take a few days, but there is a higher probability that you will receive your package.
If you've received a package that doesn't belong to you, then check out this post to return the USPS package to the sender.
Related Posts:
Conclusion
It may be possible that it was delivered to the wrong address if the tracking details say it has been delivered, but you still have not received it. This can happen to anyone and anywhere because they handle thousands of packages every day and everything goes right,
99% of the time, it gets to the receiver safely; it can happen with a few.
Please follow the rules and get in touch with USPS, as well as try to locate yourself. If everything goes well, then you will indeed receive your package. Just follow the mentioned details and contact the sender, whereby you will be able to find the package relatively easily.