The United States Mail Service, often known as the Post Office, U.S. Mail, or Postal Service, is a separate executive branch organization in the United States that is in charge of providing postal service across the country, including its affiliated states and insular territories. 
You may occasionally get a notification from USPS stating that your mail was "left with the individual." The phrase's meaning is clear, but some more crucial factors are connected to your postal delivery.  
The purpose of this correspondence and appropriate actions are discussed in this article. To learn more, keep reading this article.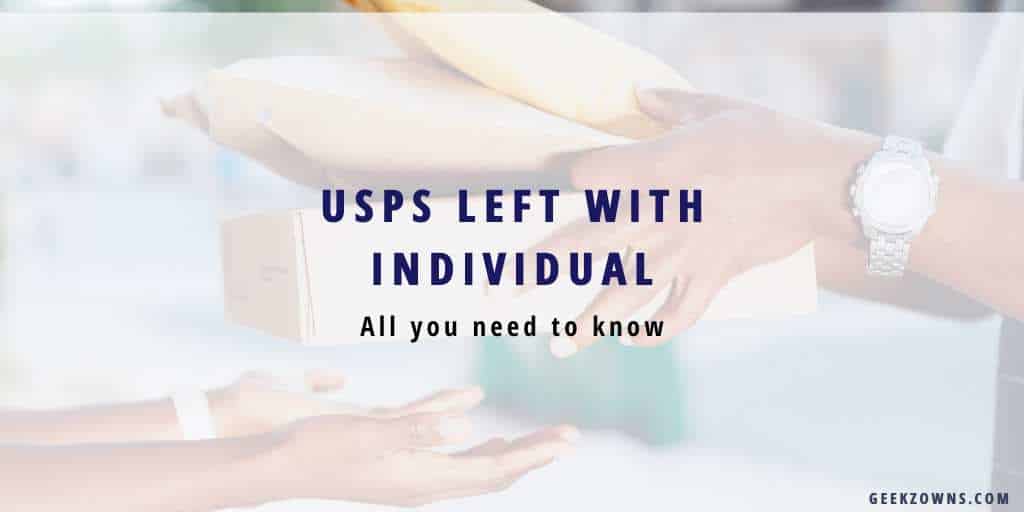 What does Left With Individual mean?
USPS left with individual means that a USPS agent has scanned your parcel and chosen the delivery option linked with a person at your address. The only thing that is clear in this situation is that the box has been delivered. 
If you haven't yet picked up the items, it's conceivable that the package is left with someone who is present at your address. The parcel might have likely been taken, signed, and received on your behalf by someone else.
Before contacting the post office directly, there are a few things you should try to resolve if USPS indicates the parcel was delivered in the mailbox, but it hasn't arrived.
You should start by looking at all the potential locations outdoors where the post office may have put your item. 
Then find out where that delivery you're awaiting stands right now. You may do this by going straight to the USPS website and entering your tracking information, looking up your tracking number, or checking your Informed Delivery dashboard, which USPS supplies. 
By doing this, you can verify whether or not your package has been delivered to you.
What to do if your package has not been delivered?
There is a problem if your delivery is not delivered to you in person; this could result in unanticipated repercussions. Going to the delivery place should be your initial action.   
Find out if your neighbors have received your package by asking them. Calling the post office should be your next move. You may use this to find out when the shipment will be delivered. 
If the box had been sent to the address, someone local might have received it. Additionally, you need to double-check your supplied address for errors.
By searching for your zip code plus post office on Google, you may also reach out directly to your neighborhood post office to fix the situation. 
If you know somebody there, try to talk with the superintendent and be particular about discussing the entire incident. 
They can also examine the location's GPS coordinates to ensure it was scanned. You might relax knowing that you'll receive a proper delivery if the courier didn't do it incorrectly.
Faqs:
To save time, a service request can be made by email to your local Post OfficeTM facility for follow-up if it has been more than 24 hours since the status of "delivered." Within two to three business days, you will get a confirmation number and a contact. At your address, please double-check every possible delivery site.
The representative informed the addressee that a package was ready and waiting for collection in the shipping department. The item has been delivered to the recipient by the agent. The item will be sent back to the sender since the agent could not deliver it to the intended recipient.
USPS would redeliver for you if USPS missed you when they attempted to deliver your mail. Redelivering is free to schedule.
USPS only attempts one delivery. The carrier then returns the letter or parcel to the nearby post office. Unless the item was shipped with limited delivery, you can sign the receipt and have someone else pick up the thing for you.
Conclusion
You could see a notice saying that your shipment has been delivered to an individual as you are waiting for it to arrive. You should not worry in this instance because a fix exists for this sort of circumstance. 
In this post, I have discussed everything regarding USPS left with an individual statement. I hope you found this post to be helpful.
I would appreciate any comments you may have regarding this. So Please let me know if you have any questions.
Originally posted 2022-10-22 16:30:00.