Have you lost your USPS tracking number? And wondering What to do if I lost my tracking number for USPS? Worry not! Here is how to find a lost USPS tracking number and what you should do.
Before we proceed, let's find out what the tracking ID is. A tracking ID is a unique identification number. USPS assigns a unique tracking number to each mail item you ship through them.
The number makes it easy to track the items or packages. basically, The tracking number allows you to check where your parcel is, what is its tracking status, when it will arrive, etc.
Whenever you ship a package with USPS, you'll get to see two tracking ID labels: a label outside the box and a label upon receipt.
If you lose your tracking number, there is no way to track the package without tracking. However.
There is still time to get back your tracking id, so read this post until the end; I have addressed all your questions about Lost USPS Tracking Number; maybe there is a chance to get back your tracking id.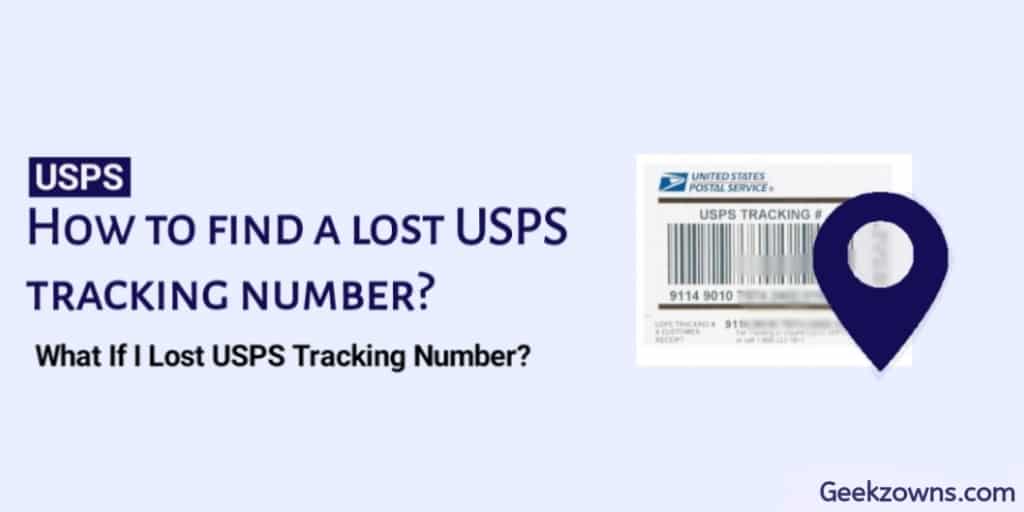 What to Do If You Lost Usps Tracking Number?
The first thing to do if you have lost your USPS tracking id is to determine where it may have fallen, e.g., nearby your home, in your room, anywhere you think it may have fallen.
Here are some checklists you can use to find your lost tracking number.
Check your package shipping receipt 
Check the confirmation email that you received from USPS
Self-service kiosk eReceipt
Contact your store provider to resend the tracking id and other details
Check shipment insurance slip
Back of shipment slip that you get from USPS
If you bought a product from an online store, you would indeed receive a Shipping confirmation email; check email.
Contact USPS customer support
Keep a copy of the receipt you received from USPS or take a screenshot/picture and store it on your mobile phone in case you need it in the future.
By following these steps, it will be much easier for you to protect your tracking ID and other information.
How to Recover Lost USPS Tracking Number
If You Lost Priority Mail Express Tracking Id –Don't worry if you lost your Priority Mail Express tracking number; the USPS team will assist you in locating your tracking number.
Contact your local post office and let them know all the details about your package.
The post office will definitely be able to help you since the data and information about your shipment are stored there, although you may have to pay extra for the tracking number and the details.
If You Lost Usps Tracking Receipt As Well As Number – If you lose the tracking information receipt, you will not be able to get back all the details of your shipment. And also You cannot get help from the post office since they do not keep all of the records regarding tracking numbers and IDs.
What to Do If You Lost Usps Tracking Number?
After trying the above methods, you are still unable to gather the USPS tracking number? If so, one last option is available to you.
Simply wait for your package to arrive. Getting it to the designated location may take some time, but you do not have other options. So just wait.
Note- international mail may take up to 28 working days to reach the destination.
Ideally, after 25-28 days, your product will have been delivered, and now there will be no questions about the shipment.
What If Post Office Can't Find Your Package
In case you haven't received the shipment or your customer hasn't received the package within the mentioned working days, then you need to contact the post office regarding your shipment.
The postal service may need all the details related to the mail item, such as the name, date, and time of shipment, address, payment mode, package content name, etc.
If the post office is unable to locate the package, then you may file a claim if the shipment was insured. For more information, visit the USPS official website
Related Posts:
Faqs
I didn't receive a tracking number, what should I do?
Possibly, your item does not include a tracking number, so you did not receive one. Included in this category are postcards, First-Class Mail letters and flats, periodicals, and USPS marketing mail.
Therefore, when you ship a package with one of these services, be sure to add an additional service to the letter or flat in order to make it eligible for tracking.
Can I get a tracking number if I lost my receipt?
It is not possible to find an item's tracking number from a local Post Office or Care Center agent if the receipt has been lost.
In the meantime, if you are currently a subscriber to Informed Delivery, you will find the tracking number of your expected items in your dashboard.
Conclusion
This post has provided detailed information on What If I Lost My USPS Tracking Number and How to find a lost USPS tracking number. I hope this information has made finding your lost tracking number easier.
Feel free to share this article with your family and friends, and if you have any queries related to the Recover Lost USPS Tracking Number, please do let us know in the comments section below.