Today I'm presenting USPS Tracking Number Examples and USPS Tracking Number Format, so if don't you know about the tracking ids and have any confusion about them, you've landed in the right place.
A tracking number is known as a unique tracking number that is assigned to each package that is shipped through USPS. With the help of a tracking number, you can easily locate your packages like where your parcel is, what's the status, when it will arrive, etc.
Typically, USPS tracking numbers are 20-22 characters long, without any words or letters between them. For Mail Express, however, the tracking identifiers differ slightly.
Mail express tracking numbers consist of 13 characters and start with two letters and end with 'US.'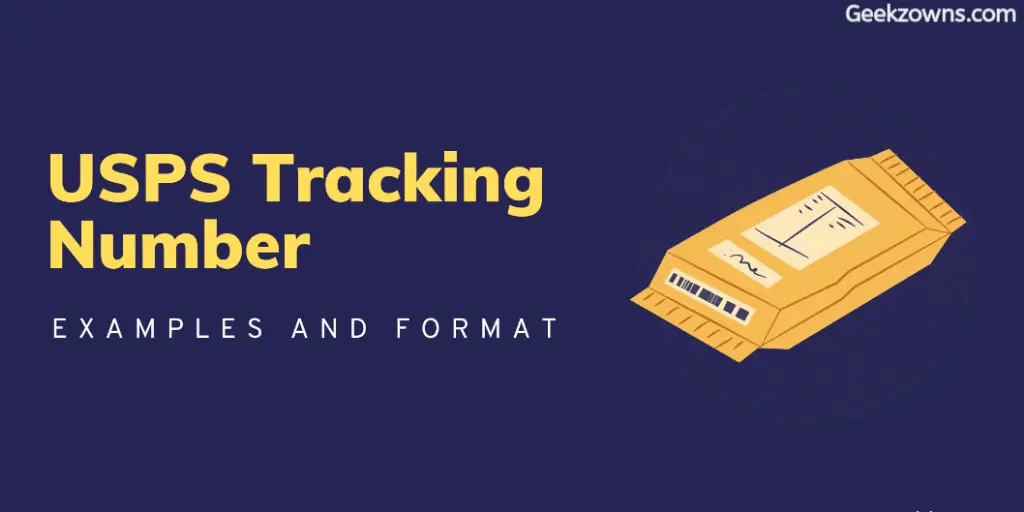 In which service does USPS provide tracking?
As you know, without a tracking number, it's impossible to track a package, and you'll be unable to keep track of the latest updates. Below I have listed some USPS services that provide tracking numbers.
So Whenever you send a package anywhere, make sure to use one of these services as they provide tracking information, making sure you always know where the package is, when it will arrive, and so on.
Collect on Delivery
Certified Mail
USPS Tracking
Registered Mail
Global Express Guaranteed
Priority Mail
Signature Confirmation
In order to receive the shipment tracking number, you need to use one of these services with your product. Nevertheless, if you do not have selected one of the postage options mentioned above, then you might not receive the tracking number.
Although in a few cases, you can get the tracking number of shipment by paying an extra fee, but most of the services include the tracking number, so there is no charge.
USPS Tracking Number Format and Examples
USPS is a courier company that offers tons of services for domestic and international mails. Each shipping services assign a tracking number to each package which shipped with them.
A tracking id is a unique number that varies on which services you have chosen.
The USPS tracking number can be up to 22 characters long, which can vary for each package; however, some services have 15-16 character tracking numbers. All services tracking number examples can be seen below.
Here are the services and their tracking number examples
| | |
| --- | --- |
| Services name | Tracking Number Example |
| USPS Tracking | 9400 1000 0000 0000 0000 00 |
| Priority Mail | 9205 5000 0000 0000 0000 00 |
| Certified Mail | 9407 3000 0000 0000 0000 00 |
| Collect On Delivery Hold For Pickup | 9303 3000 0000 0000 0000 00 |
| Global Express Guaranteed | 82 000 000 00 |
| Priority Mail Express International | EC 000 000 000 US |
| Priority Mail Express | 9270 1000 0000 0000 0000 00 EA 000 000 000 US |
| Priority Mail International | CP 000 000 000 US |
| Registered Mail | 9208 8000 0000 0000 0000 00 |
| Signature Confirmation | 9202 1000 0000 0000 0000 00 |
Now that you have seen all the examples of USPS tracking numbers, you must be wondering where to find the tracking number on a USPS Receipt. Let's find out.
Where is the tracking number on USPS Receipt
After knowing all the examples of tracking id, may this question must come to your mind how to find the tracking number on the receipt which I received from USPS,
See the receipt example with a tracking mark highlighted below, follow the same method on your receipt, and you will find it easily.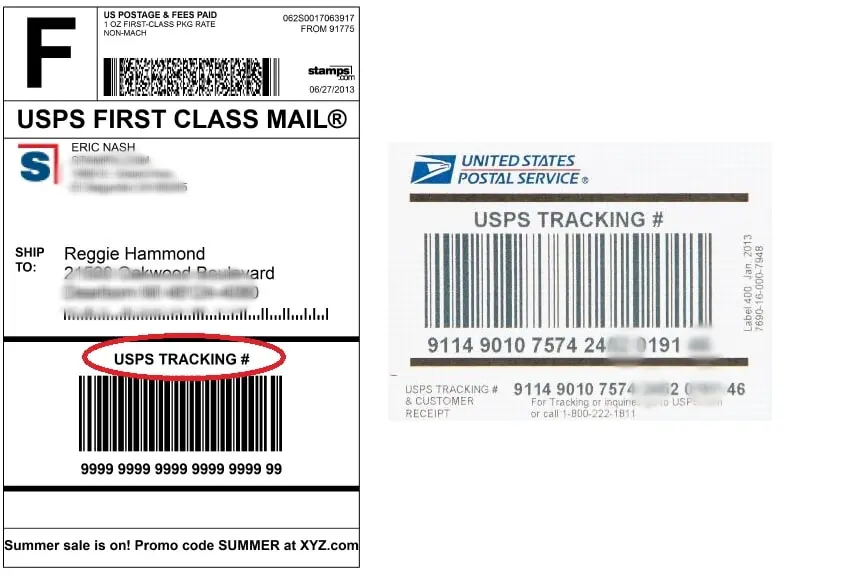 If you are not able to find the tracking id on the receipt, try to contact customer support, they will surely help you in finding it; Just you have to provide some basic details.
USPS Tracking Number Example and format explanation
You are aware that USPS offers various services, and they give a different tracking number for each item. The tracking number format is also different depending on the service.
USPS tracking id character is up to 20-22, and some of the services tracking id is Upto 13 characters in which you will find some letter and some character.
Take a look at all types of USPS tracking number formats.
| | |
| --- | --- |
| Format 1: | 9205 5000 0000 0000 0000 00 |
The first one, tracking id is 22 digits long, and it does not contain any letter or words.
| | |
| --- | --- |
| Format 2: | EC 000 000 000 US |
In the second one, the tracking number starts with two letters and ends with the word 'US' with all digits in the middle.
Third, this is used on some services which contain up to 10 digits.
How to Track a USPS package?
There is a USPS online tracking service that tracks the status of parcels and other mail items with a tracking or receipt number. USPS package tracking is so simple that anyone can locate the most updated tracking information in no time.
You just need to follow the below instructions to track the package further.
First, visit the USPS official website, which is USPS.com.
From the above menu, select the track package.
Please enter the tracking number you received from USPS there and hit the track.
That page will show you the latest information about the package like where it is, when it will arrive, etc.
Note: Shipping with Priority Mail Express entails in-depth information like where the package is, what are facilities it has left, when it will arrive, etc., while other services let you know when a package will be left for delivery.
In the event you receive any tracking status that is listed below, you can check it out to know.
Tracking Statuses that confuses us:
Related Posts:
How Do I Find My Tracking Number?
You can find the tracking number on your mailing receipt, sales receipt, online label if you have purchased through an e-commerce website, and insurance receipt if you have purchased along with the service.
How Many Digits Are USPS Tracking Numbers?
USPS tracking numbers are usually 20 to 22 characters long, but for the express mail service, they are 13 characters long with two words.
Why Is My USPS Tracking Number Not Working?
In either case, you will receive a tracking update, or there will be no updates. Verify the tracking number again. Wait 20-48 hours, and it will surely update. Otherwise, you can contact customer support for more information.
Conclusion
As you have seen all the tracking details regarding USPS tracking number examples above, I hope you now understand it and can identify it when you see any of these while shipping and tracking.
If you are having a problem with the tracking package, you must be entering the tracking information incorrectly or there have been no updates. If you are still unable to track the package, please feel free to contact customer support.
I hope you liked this post, don't forget to share it with your friends: