Do you want to know What Is An Article Number USPS? and where can you find it? If yes, then you have come to the right place. You'll find out everything you need to know about the topic in this article.
USPS is one of the leading postal service providers in the United state; it provides many services to its customers. A service that they have is "article numbers", which helps users keep track of their packages to know when it comes and where it is, etc.
It is one of the vital services that every USPS customer should know to fully utilize USPS services. Let's get started.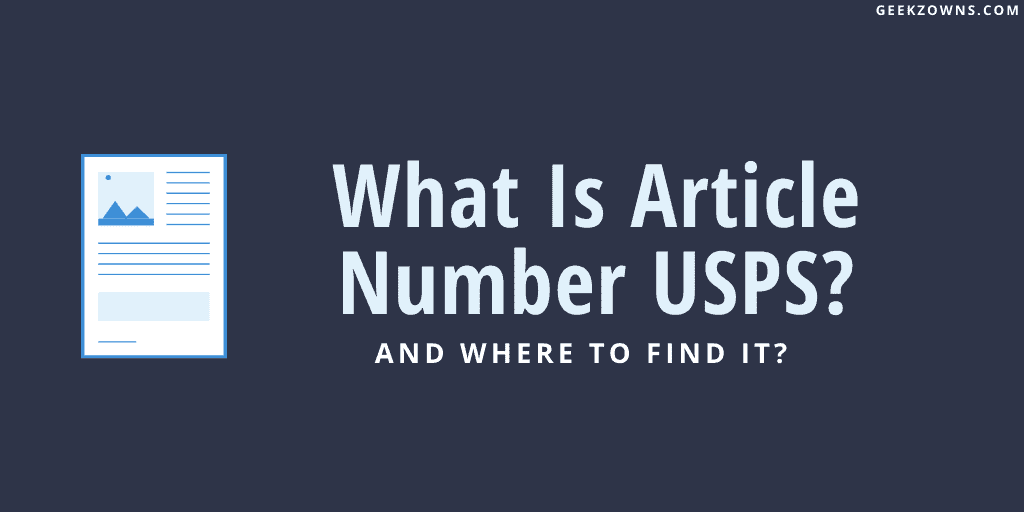 What Is An USPS Article Number?
An article number is used to identify a package in a shipment in the USPS catalogue through its tracking number. It also allows the shipper to know the exact location of their package and when it will be delivered.
Through the USPS Tracking page, text messaging, and phone tracking, you can keep tracks of the progress of your package while it is being delivered to you.
The USPS uses article numbers to identify the owner and destination of a package, as well as payment status and tracking information, etc. The information includes when it arrives in the warehouse & when it left, and so on.
If you ever send a package, you may know that USPS assigns a unique number to your package, usually 22 digits but depending on which service you choose. Different tracking numbers are provided by USPS depending on which service you choose.
USPS Article Number Format
See the above image for an example of what an article number looks like, where it is located, etc. The article number is placed just below the barcode, and The image above shows the latest article number format.
If you want to know about the Tracking number format, then make sure to check out this post. It has all the information you will need on that topic.
What's The Use Of the USPS Article Number?
There are many uses of article number, such as –
You can track your package to know about it.
It helps USPS to make it unique each and every package identification.
It can be useful for checking the payment status.
You can also know the owner's information.
You can get updated with package tracking status.
It can be useful when you need to contact customer support.
It also shows the date and time of the package when it arrives and leaves any hub.
Where Can I Find USPS Article Number?
There any many ways to find the article number, such as –
In the Mail Receipt.
The front side of the package.
You can see this below the barcode.
The bottom section of the tracking label.
On the Insurance receipt, if you bought this.
From the shipping Confirmation email.
On the Post Office shipping receipt.
How To Track A Package
You can track the package in many ways, such as
Though the official website
Visit the USPS official website or click on this link; you will be redirected to the tracking page of USPS.
Enter your tracking number and hit on the track button.
After that, you'll show your package details like where it is, when it will be delivered to you, etc.
By SMS
Send a text message with your tracking number to 28777, and you will receive a response with tracking information.
Using the Official App
Install the official USPS app on your iOS or Android device. After that, you can easily track your package using the tracking number.
Related Posts:
Conclusion
This tracking number is often referred to as an article number, and it can be easily observed using the above-mentioned method. The following post may help you to know more about an Article Number USPS and its article number format.
Let us know about any doubts or suggestions you may have. Don't forget to share this post with your friends on social media.